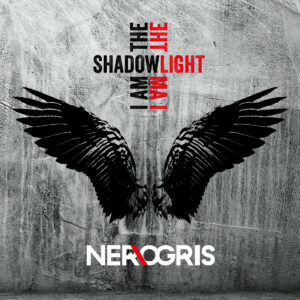 Ner\ogris
I Am The Shadow – I Am The Light
Dependent
German duo Ner\ogris' LP I Am The Shadow – I Am The Light might be the project's first release, but both members have a number of credits dating back to the 90s, with Tino Claus' work as one half of Amnistia likely being the most familiar to readers. But more important than their literal resumes are the range of tastes and moods Claus and Kai Neugebauer bring to bear, refreshing familiar European electro and North American electro-industrial templates with some smooth understatement.
At first glance, I Am The Shadow – I Am The Light fits handily into the longstanding electro mold, though plenty of subtle differences will begin to emerge after paying it any real degree of attention. While it's easy enough to draw lines between tracks like "Deepest Fear" or "Reality & Fiction" and any number of club-driven European acts from the past two decades, Ner\ogris have found ways of swapping out some of that sound's most dated elements while still retaining its melodic and accessible charm. The echoing, hypnotic percussion of opener "Inicio" recalls the recent dark techno of Blac Kolor more than it does any release by any of their Dependent labelmates. Later, the expansive and warming instrumental "Sombra de Palomas" feels like a link between Neu!, Art Of Noise, and the more psychedelic side of Project Pitchfork.
But more than in revamping the sounds of their peers, it's in wrestling with the much longer-standing legacy of Skinny Puppy where Ner\ogris truly test themselves. There are a few moments which feel like pure homage to the original Puppy sound – the "Deep Down Trauma Hounds" styled "Down" even uses "nature's revenge" as a lyric, for pete's sake – but things are more sotto voce elsewhere. From the slo-mo waltz of "Silent Anguish" to the bright fanfares of "Shadowlight", Ner\ogris have found a number of ways to spin vintage electro industrial into other musical orbits.
In tracing the lineage of a good portion of I Am The Shadow – I Am The Light I don't mean to suggest that it's too beholden to its influences, far from it. Rather, Claus and Neugebauer's ability to jump from the winsome and hooky as all get-out chorus of "Reality & Fiction" to the downtempo groove and smokey ambiance of "Cuervo nada más" while keeping the record's larger personality in place speaks to a well-deserved confidence that's rarely found in the modern Euro scene. Recommended.