It's been a long time since we've introduced a new, reoccurring feature format here at I Die: You Die, but the idea for this one has been percolating for a while and this seemed as good a time as any to give it a whirl. A Game Called Echo is inspired by the not-infrequent inquiries we get from folks who want to know what good and new music is out there, and need a reference point for something they're already familiar with. Maybe they're older scene heads who haven't been able to keep up for a couple of decades, and maybe they're folks who just need a landmark to navigate the vast number of genres and sounds we cover. This format is an attempt to provide a simple enough guide to good newer records based on a simple premise: "If you like classic record x, you might like record y". That's it, pretty straightforward we think. We plan to do this monthly (for now), let us know what you think in the comments and if you have any suggestions for future editions, feel free to include those as well!
Godflesh's Streetcleaner (1989) and Black Magnet's Hallucination Scene (2020)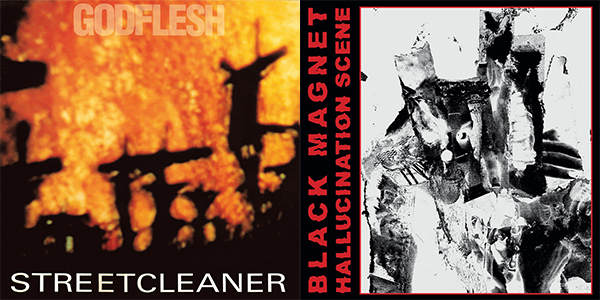 Godflesh's Streetcleaner has a following in circles that span well beyond the world of industrial (and its oft-dubious stepchild industrial metal) into the broader world of heavy metal. Even before vocalist and guitarist Justin Broadrick's ascent to revered multi-genre polyglot, the group's 1989 LP created with bassist G.C. Green was cited as a pioneering example of how to do industrialized extreme metal the right way. Using an HR-16 drum machine as bludgeon and taming the howling vortex of feedback and riffs into mechanical grooves far heavier and more brutal than any of the other offerings of the nascent sound. Even today Streetcleaner has a power that remains undiluted by time, even elements that could be perceived as shortcomings (the record's love-it-or-hate-it bass tone, and spartan drum programming) have become its trademarks; "Pulp" still sounds like hell's firing squad warming up for a day at the office, and the epic "Dead Head" can still push back your hair through sheer force of will if you have the volume cranked.
For those who crave both that LP's sense of misanthropy and its hybridization of mechanical precision and unbridled ferocity, we direct you to Black Magnet's 2020 first LP Hallucination Scene. While the nods to Godflesh and the broader world of extreme metal are clear from the outset – opener "Divination Equipment" has that combo of crushing rhythms and squealing machine noise down cold – the band's sole member James Hammontree has larger ambitions as a producer and performer than mere homage. Black Magnet's guitar driven attack is adorned with sequenced percussion and synth noise that gives its tracks an expansive sonic breadth; "Anubis" expertly dials back its arrangement to just drum sounds to emphasize the songs monster multi-track lead riff, where "Crush Me" applies a 4/4 kick at dancefloor tempo to bring out the swing in its monolithic structure. Where other acts fail to stand up to the might of Streetcleaner either by dint of viciousness or inspiration, Black Magnet's debut stands tall in comparison through the application of lurching, inevitable creative momentum.

Iszoloscope's The Audient Void (2005) and Templər's Myths And Consequences (2021)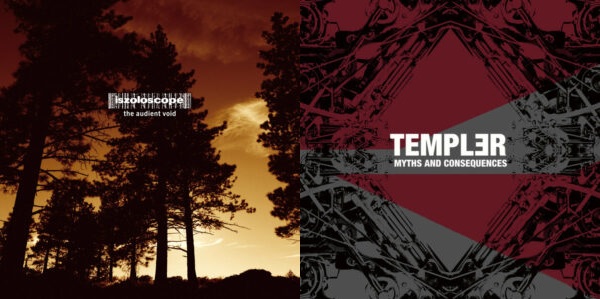 The idea of "virtuoso powernoise" feels like something of a contradiction in terms; surely a large portion of the subgenre's appeal as it began to coalesce in the mid 90s was its fealty to the raw origins of industrial while holding onto (and amplifying) the rhythmic focus of so much post-industrial music. It's a genre which tends to get better the more blunt it is, yet a handful of producers have been able to bring such a particular blend of compositional and production chops to the sound that one has to admire them as much for the ornamentation as for the foundation. Nearly any record from the Iszoloscope catalog could fit into this mode, but The Audient Void perhaps gives the most even distribution to Yann Faussurier's ability to transition betwixt windswept dark ambiance and mercilessly arranged blasts of metallic percussion. It's both a record which makes clear what is totally unique about Iszoloscope's particular aesthetic, and one which still serves as an essential document of the core tenets of powernoise.

Just one of a myriad of Thomas Chalandon's, projects, Templər and its debut LP Myths And Consequences feels like a return to the source of powernoise, albeit one substituting the influence of current techno for the then-contemporaneous influence of gabber (much like powernoise felt like a return to ur-industrial, substituting rhythms for, well, an aversion to them). Like Izsoloscope, Templər puts punishing and repetitive rhythm right in the center of their productions, but also like Izsoloscope, can't help but find empty corners in the tracks in which to place a whole smatterings of well-considered textures and drones. Though often wheezing at slightly different frequencies, and with Templər's navigation through dense factory terrain being a bit askance from Izsoloscope's treks through the cosmic void, The Audient Void and Myths And Consequences produce similar sensations in the listener: a deep sonic undertow, and simultaneous appreciation for the flair with which they're pulling you down.