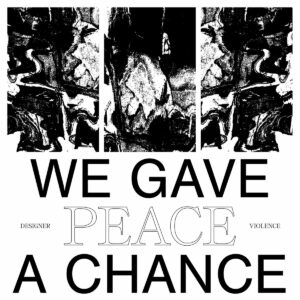 Designer Violence
We Gave Peace A Chance
self-released
When we first checked out Dutch duo Designer Violence via their 2019 EP Unplanned Madness! we thought there was a good amount of promise in their lo-fi, splatter-punk style of electro-industrial by way of synthpunk. Checking back in a few years later, their second full length We Gave Peace A Chance doesn't just deliver on that promise, but also finds the band working a host of metal and goth related sounds into the mix, while still maintaining a ferocious, off-the-cuff sense of energy and anger.
From the strained guitar leads and guttural vocals of opener "The Rapture", it's apparent that Gaya Asyd and Nina Ophelia are drawing upon a much broader pool of sounds than on their earlier work, though the industrial clatter and chug of the bedding track maintains a connection to it. Both the classically witchy goth-stomp of "Tijidlijn" and the blastbeat driven black metal of closer "Fade Away" segue in well with the band's electronic roots, and manage to add extra dimensions of aggression to their sound. Within this generally thrashing milieu, the decision to cover "Double Dare", one of the most riff-driven songs in the goth canon makes a good deal of sense (and lest you think that Bauhaus is a pretty easy pull, it should perhaps be pointed out that the band covered no less of a deep scene act than Psy'Aviah last year), and transforming it into a Fad Gadget-esque synth crawl brings some freshness.
None of this is to say that We Gave Peace A Chance sounds like a band aimlessly flipping through a stack of records by their influences, though. Indeed, the focused anger which drives the record makes sure that Designer Violence's own lives and concerns stay right in the spotlight. While sometimes a bit occluded by the odd song sung in Dutch, the band's lyrics link the personal to the political (and sampled news coverage of the murders of trans folks make things explicitly clear). When the band asks "When all else fails, will you be there for me?", you get the impression they're making contingency plans for the final collapse of democracy or the environment rather than post-breakup melancholy.
Designer Violence are still evolving and mutating. The technical limits the record bumps into at points prompts one to wonder what their far-reaching sound might sound like rendered in higher-def, but the DIY charm of We Gave Peace A Chance is far more palpable than any hypothetical future. More importantly, in the here and now, fuelled by righteous anger and a hefty stack of beats and riffs, they have something to say, and are spitting it out with venom. Recommended.