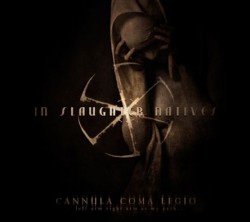 In Slaughter Natives
Cannula Coma Legio
Cyclic Law
It's been a full ten years since the last LP of new material from In Slaugher Natives, the legendary Swedish project which set innumerable standards in dark ambient and martial industrial…and we'll have to wait just a little bit longer. While containing Jouni Havukainen's first original studio material since 2004's Resurrection (which itself came after an eight year hiatus), Cannula Coma Legio is primarily something of a clearing house and table setter. New pieces are blended with reworkings of existing material from compilations and deep album cuts, along with reinterpretations prompted by ISN live shows, as well as "live performances by extreme body art performer Chérie Roi". With all of that said, Cannula Coma Legio feels very much like a well-curated legacy piece, the sort of brief showcase that gives die-hards things old, borrowed, and new, as well as providing a handy merging lane for those arriving to Havukainen's catalog late in the game.
Unlike more minimal, pure-drone dark ambient acts, In Slaughter Natives never relied wholly on sustained atmospherics, nor, like countless contemporaries, did it opt for full-bore mechanized aggression. Instead, by combining ambiance with strict, solemn rhythms and unsettling noise with stirring progressions, Havukainen struck upon a winning formula which has been tweaked only slightly over the course of his discography (personally, I'm most fond of sophomore record Enter Now The World), perhaps one of the strongest in that ambiguous category sometimes termed post-industrial. Long-time listeners will be on familiar ground, even if Cannula Coma Legio occasionally swings a bit more heavily to the dusty ambient side.
New (at least to me) composition "Definition Of Being Human" ticks off just about all of the hallmarks of ISN's work while also tapping into the mood of Cannula Coma Legio in particular: slogging, unrelenting percusion, blasphemous horns, and a creeping lead that can't quite be quantified. "Venereal Comatose/Closed My Eyes" reprises a tune taken from a Passolini tribute album (if there was ever a director more suited to a record of Cold Meat Industry-style compositions, I'd like to see their films), but samples of eerie faux-babytalk and cries of pain for added effect, while the familiar choral drama of classic composition "Angel Meat" gets a bombastic tune-up.
As an aside, if one thing's changed about In Slaughter Natives in the ten years since Resurrection, I'd argue that it isn't their music, but rather the general public's acquaintance with the sort of music the project produces. If I may be so bold, mainstream entertainment entities like Skyrim, Vikings, Game Of Thrones, and plenty more, now regularly offer up orchestral hellscapes which aren't entirely dissimilar from ISN's work. While "Venereal Comatose/Closed My Eyes" is still likely a bridge too far, I could very easily see the slow march of "Plague Walk My Earth" appearing in the trailer for an upcoming sword n' sorcery vehicle with a Nordic flavour. Obviously I'm not claiming that this sort of dovetailing is anything more than happenstance, but if a wider audience is perhaps primed to be receptive to this sort of dread-soaked material, Havukainen couldn't have picked a better time for a comeback.