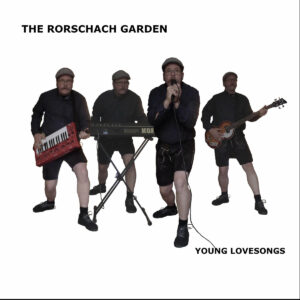 The Rorschach Garden
Young Lovesongs
self-released
The distinction between Philipp Münch's work in powernoise pioneers Synapscape and in the experimental synthpop and darkwave of The Rorschach Garden has always been a sharp one, but new off-the-cuff RS LP Young Lovesongs (recorded especially for Valentine's Day) brings that difference into as sharp a contrast as could be imagined. Inspired by recent events mirroring those of his past, Münchis returning not just to the sounds of the early 80s, but where he was emotionally at that time, making for an incredibly disarming and charmingly innocent release.
The style of synthpop Münch is returning to – suggesting early Human League and a decent helping of Speak & Spell – fits the concept of Young Lovesongs to a tee not just because of the era it evokes, but because of the sense of simplicity and plainspoken, teenage declarations upon which the record hinges. When Münch refers to travelling back to 1982, it's to reinhabit his own youthful insecurities as they happened, without the benefit of hindsight or experience. The lyrics to the record are ripped directly from just about any teenager's diary, touching upon topics from feeling stuck in a boring hometown and not even being able to take the bus to escape and go record shopping ("Prisoner Of The Past") to kvetching about the "strong guys" and "rich guys who try to impress" the object of Münch's affection ("Hard For Me To Wait" & "They Don't Deserve Your Love").
That sense of direct whimsy carries forward to the music. Of course, the "bedroom synthpop" sound is one which can call back to the earliest LPD material as well as the turn of the millennium interest in lo-fi, confessional synthpop. But much in the same way that the lyrics suggest a teen trying to write out their feelings in order to understand them, the hesitant twinkling of tracks like "Hard For Me To Wait" connote someone testing out the possibilities and limitations of their first synth. That's a task Münch might very well have been wrestling with in 1982 or shortly thereafter, but certainly hasn't had to worry about for decades. Again, it's impressive how much of the record communicates a sense of youthful naivete, be it emotional or musical.
Synthpop and nostalgia are sympatico forces for a variety of reasons, but in flashing back to just how painful and awkward teenage years can be without romanticizing them, Münch's avoided one of the genre's common pitfalls. Young Lovesongsis certainly an exercise rooted in examining the appeal of nostalgia, but the actual experience of the record is not one of looking through rose-tinted glasses. Rather, it's a blunt and at times painful and cringe-inducing reminder of the black-and-white simplicity with which we perhaps used to view the world and ourselves.