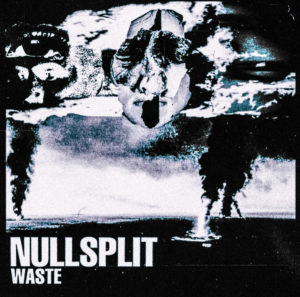 Null Split
Waste
self-released
Last year's "All The Things" single pointed towards an industrial rock turn from Antoine Kerbérénès' Null Split project, a move which is doubled down upon on in much of new EP Waste. Kerbérénès' previous Null Split releases, and of course his work as part of Chrome Corpse, has shown a keen talent for EBM and electro-industrial, and that's still certainly a big part of the project. "All The Shit You Say" brings the same hyper-kinetic sample and rhythm collage philosophy to EBM that we heard on Null Split's excellent collab with INVA//ID last year. But it's the addition of guitars to Kerbérénès' spiky and off-kilter style which gives Waste its unique flavour. While some might find hints of Chemlab or later-era MInistry, for my money the chorus of the title track finds the same strange intersection of angsty glam and manic industrial as Prick, and later, the grimy riffs which adorn the irreverent, careening self-destruction of "Little Crown" also conjure Kevin McMahon's too-often overlooked project. This isn't to say that the programming's playing second fiddle – whether on its own or in tandem with the guitar each of the numbers here are solidly constructed and don't use the rapid-fire cycling of sounds as an excuse to cut corners. Strong and hard-hitting stuff with real personality.


Unconscious
La vittima è la musica
Detriti Records
Andrea Riberti's Unconscious is a familiar project to those who track techno friendly EBM; between releases on Detritri and X-IMG the Italian project has earned a rep for DJ friendly cuts and remixes that keep body music sounds in front. New EP La vittima è la musica doesn't buck that trend, in fact it feels like Riberti is digging in deeper to the genre's strident mechanizeed funk then ever before. Once the opening organs of the translated title track "The Victim is the Music" have faded away you're left with a rubbery bassline and clacking railroad drum accents that create syncopation in their placement around the kick. "No Morality" uses a similar setup but varies the percussion sounds, switching up snares, cowbells and other metallic clangs to play off the beat, leading to some particularly bouncy pattern variations. Interestingly the EP's last two tracks tone down the rhythm in favour of more soundtrack-style experimentation: "Nyx" has nice vintage choral pads and an arpegiating lead that play against impactful drum hits to create tension and suspense rather than movement, while "Apocalyptic Chant" uses a vocal and deep sweeps of synth noise that are almost dark ambient in execution before a plaintive synthline emerges to conclude the song. It's all rather good, and a welcome early 2022 release from a producer we've grown to expect good things from.