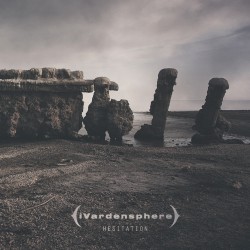 iVardensphere
Hesitation
Metropolis Records
Hesitation is the seventh LP of original music from Scott Fox's iVardensphere, and the second to be released in 2017. To put that in context, iVs has only been actively releasing music since 2009, but Fox has filled almost every waking moment of that time with albums, interstitial singles, remixes and live shows, including an extensive recent tour with VNV Nation in his solo incarnation of the project. Mind-boggling work ethic aside, the net result of creating such an extensive catalogue in just under a decade is that iVardensphere's identity is firmly established: deep grooves, extensive use of electronic and acoustic percussion and (especially in recent releases) the use of vocals and melody to add detail and feeling.
With that in mind, Hesitation plays very much as a companion piece to its predecessor Exile. The songwriting and production emphasizes many of the same ideas, building songs up from syncopated drum parts and using massive analogue bass sounds and acoustic instrumentation to fill out the composition. Both records place a great deal of importance on impact, creating massive rolling arrangements, pulling them apart to create space and then allowing them to coalesce again with force. Some of that emphasis is probably attributable to the influence of member Jamie Blacker, whose own project ESA uses a similar toolset, albeit to different ends. Longtime collaborators Yann Faussurier and Chuck Murphy contribute as well (the former is responsible for the crunchy textured instrumental banger "Surface Tension") but it's the Fox and Blacker collaborations that really seem to speak to where the project is at in 2017. The songs specifically co-written by them – the angular "Align, Get In Line, Stay In Line" and the pensive title track – share a special synergy, addressing the tension between acoustic and electronic instruments at the project's heart. It really does drive home the fact that iVardensphere has evolved into a fully collaborative affair.
Still, every song bears Fox's distinctive fingerprints as a producer, especially in the arena of sound design. "You Didn't Hear Me" has a funky electro groove and melodic vocal turn, but it's the analogue burbles and crackling bass sounds bring it firmly into the iVs camp. "Pray for the Day" inverts that, despite being credited musically to Blacker, the elastic bass synth and rhythm section feels very close to Fox solo compositions like the rumbling subwoofer workout "Dark Deed" and the creaky glitch of "Shroud". Even in the album's most uncharacteristic moment "Rapture" can easily be folded into our understanding of the project as a function of Fox's interests; as a full on homage to Juno Reactor complete with butt-rock guitar at the climax, it only serves to point out how a key influence has become fully diffused into iVardensphere's identity.
In considering Hesitation it's useful to contextualize it in the grander scheme of Fox and company's work. You can hear traces of the project's past and potential futures in its twelve songs, and at least half the fun in listening to it beyond it's immediate charms is in trying to divine where it could lead. We'll likely have some new music to validate those guesses sooner rather than later, but in the moment it's just as enjoyable to let this one play out in all its rhythmic, analogue industrial glory.