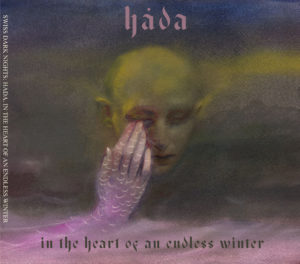 Hada
In The Heart Of An Endless Winter
Swiss Dark Nights
Although nominally a side project of Greek goth rock act Angel's Arcana, Hada's 2020 debut took a route rarely travelled by contemporary goth acts, tilting into quiet and spacious terrain previously presided over by the likes of Claire Voyant while still giving the occasional nod to contemporary darkwave stylings. The duo's sophomore record, In The Heart Of An Endless Winter, delves further into that specifically ethereal sound, adding some neoclassical and ambient flair along the way.
Between the dulcimer of instrumental prologue "White Sister" and the lifting of Paul Celan's haunting poetry on "Ice, Eden" it's apparent from the outset where Natasa Koumi and Babis Niko's priorities lie. The creation of an otherworldly atmosphere – cold, contemplative, and elegant – is their main concern, and while Abrahadabra's acoustic sounds and some of Angel's Arcana's more trad goth flavour is still discernible, In The Heart Of An Endless Winter is as lush and ethereal a listen as anyone could hope for. The devotional air of "Helichrysum" and the smoke, shadows, and drums which make up "Madonna Medusa" should appeal to anyone invested in recent Lycia or still holding a candle for Ivoux.
That dedication to mood and ethos above all else leaves Hada free to hop between genres across Endless Winter and often mid-track. Note how the trance-like arpeggio of "Ascent Of The Blessed" adopts polyrhythm as it makes its spacey trek, or how the first wave goth rock strum which begins "Neurons" ends up sublimated within a more strident and modern style of darkwave. We've always been of the opinion that the best darkwave is omnivorous and liminal, and Hada drift like free spirits across this record. Like Double Echo's Burning In Blue (an equally great record which also landed too late in December for proper Year End consideration), In The Heart Of An Endless Winter nimbly picks up and moves away from specific tropes while maintaining an overall mood and listeners' interest as they wonder what sounds might crop up next.
As I often do, I listened to Bel Canto a lot over the holidays, specifically their masterful Birds Of Passage LP. As always, the rareness of its combination of darkwave, pop, ethereal, and neo-classical struck me, and so I was delighted when I returned to the ID:UD desk and realized just how capably Hada were interweaving those same elements, albeit in an entirely different pattern. In The Heart Of An Endless Winter holds both depth and ease of listening, and is as substantial as ethereal wave gets. Recommended.