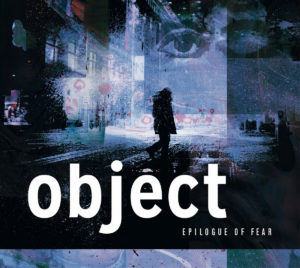 Object
Epilogue Of Fear
self-released
Longstanding one-man German act Object has had its aesthetic on lock for a good while. Andreas Malik has been trading in a solid foundation of 90s dark electro and some healthy dollops of 80s electro-industrial since Object's first proper LP back in 2001. His newest work amplifies the latter part of that equation, bringing a classically hazy and psychedelic mood to Epilogue Of Fear.
Longtime listeners of not just Object but also Malik's influences will likely feel in capable hands once they hear the icy patina of synth harmonies which suggest early Haujobb on opener "The Tormented Mind". Its stuttering beat and mid-tempo pace nicely set the stage for both the languid delivery of the record and its arrangement style: there's plenty of distortion and reverb adorning both vocals and programming, but with spacious enough instrumentation and mixing to allow each element to be tangible.
As alluded to above, more than on just about any Object record I can recall Epilogue Of Fear owes a debt to classic Puppy, namely of the Mind: TPI era. The trippy, loping liquid drip (and not to mention the vocal processing) of "Hidden Perceptions" in both its original form and an appended remixed iteration speaks to the lasting legacy of Vancouver's finest and to Malik's aims with Epilogue Of Fear: a denser, more psychedelic, more acidic, and "chewier" record than its predecessor Borderlands, with the cybernetic sheen of that record being dirtied up with some extra distortion and a more melancholic, psychological mood.
As is the case with most true-school acts of this sort, you'll likely know within a track or two of Epilogue Of Fear whether or not you have the very particular itch Object is setting out to scratch. Work of this sort rests on the listener already being well-versed in the established style and having a yearning for more, but those dark electro die-hards will get a proper fix in Epilogue Of Fear.