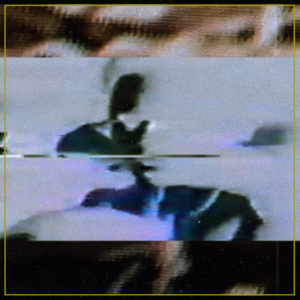 INVA//ID
The Cruel Division
self-released
Despite (or perhaps because of) an erratic approach to release formats and schedules, LA's INVA//ID have carved out a rep for grimy and aggressive dark electro which abuts upon a number of sounds not typically tapped by industrial scene bands. That flexibility well serves the collaborations featured on new maxi-single The Cruel Division. The original does a great job of linking a fundamentally sound EBM bassline to a more brooding and nodding arrangement than we'd normally get from trad body music, with Christopher Rivera's sense for rock and metal structures paying off nicely. Floorless' mix draws a line between Dark Side Of The Spoon and the drop D nu-metal bands savvy enough to have lifted something from Ministry, while HAEX's tightly quantized, cyberpunk flavoured read frames Rivera's vocals in a new light while emphatically ticking dancefloor boxes. If you're new to INVA//ID, B-side "Vile" helps to triangulate the act's woozy and clattering approach. Here's hoping this presages a new full-length.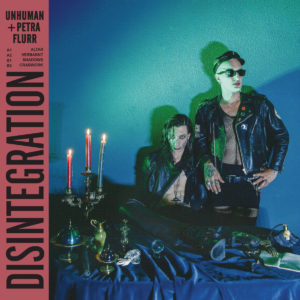 Unhuman & Petra Flurr
Disintegration
OSM Tapes
The lates collaboration between vocalist and performer Petra Flurr and producer Unhuman follows closely to the proto-body sounds of their first LP from 2020 Cause of Chaos. If anything Disintegration leans into the synthpunk aspect of their sound even more, evoking obvious touchstones like Suicide and DAF, but also dipping into the controlled havoc of Nervous Gender and Primitive Calculators. Their anarchic and deliberately minimal approach dresses up simple analogue synth and drum sequences to fist-pumping effect; check out Flurr's distinctive yelp and yowl vocal delivery, biting off syllables and grunting like a pig between choked stabs of guitar on "Shadows", and in the Kraftwerk-by-way-of-Radio-Shack simplicity of "Crabwork". It isn't all about tearing things apart though, as "Verbannt" demonstrates a positively restrained side of the duo, it's kick-snare drums and buzzy bass are given seasick washes of reverbed synth for flavour, or how "Altar" subtly uses tape style delay to add intrigue to its plodding rhythm. As deliberately throwback as they are, Flurr & Unhuman find plenty of space to flex and bend their vision of the past into new shapes.