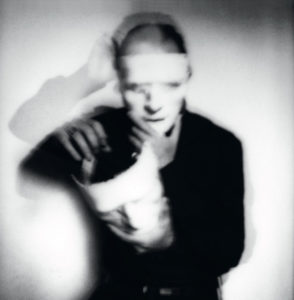 Kontravoid
Too Deep
Fleisch
The dark dance music landscape has radically changed since Cameron Findlay unveiled his solo Kontravoid project some eight years ago and made an impression on us with a self-titled LP. The early industrial influences Findlay was drawing upon have reentered common parlance, and an unfathomable number of producers are engaged in a Teutonic arms race, attempting to develop ever harsher and bleaker industrial beats to penetrate Berlin club bunkers. This isn't to suggest that Kontravoid's been standing pat in the interim; a string of solid singles, capped off by last year's excellent Undone EP found Findlay honing his EBM and techno skills. Now, with second LP Too Deep, he's both doubled back on his original strengths while also consolidating his newer, heavier sound.
Too Deep's A-side leaps for the jugular right from the start, with the squalling noise and bassy distortion of "Open The Wound" and the speedy EBM of "Turn Away". Those tracks, plus the extra swing added to the death-acid of "So It Seems – Version 2" (a more staccato version saw release as a single a couple of years back) seem tailor-made to establish Findlay's bona fides as a darker and heavier producer than those who missed out on Undone, or who haven't checked him out since the debut LP, might presume.
But Too Deep isn't just relying on handy (if effective) markers of intensity. On a first pass at Too Deep I immediately recognized a number of tracks I would have heard only during the couple of live Kontravoid sets I've caught over the past year. And while some of those numbers are part of Kontravoid's heavier and darker shifts, it's often the long-established melodic side of the project which leaves a lasting impression, especially as the LP moves on. The title track carries a surprising amount of simple but hooky melodic punch beneath its dense clatter and rolling tom fills. The fuzzy mesh of pads which sit beneath the relatively sparse "Distress"' kicks are similarly catchy.
The work of Dirk Ivens is a comparison I never imagined I'd make with Kontravoid (and no, it's not just Findlay and Ivens' shared proclivity for eerie facial coverings). But between the Dive-like aggression of tunes like "Open The Wound", the savvy minimal melodies with hearken all the way back to Absolute Body Control, and a slight vocal similarity it's a well-earned reference. Maybe most importantly, Findlay is beginning to show that, like Ivens, his work can go through stylistic shifts and can wax and wane in aggression while still clearly communicating his own signature artistry. Recommended.