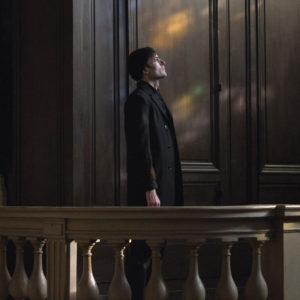 Sydney Valette
Home Alone
Young And Cold Records
The French darkwave scene is going through something of a spotlight moment of late, as long-running and newer acts alike have come to light for a broad international audience. One such artist is Parisian producer Sydney Valette, who with a solid decade of releases under his belt is putting out his sixth LP Home Alone, a record that speaks to both the character of French darkwave with its touches of minimal synth and coldwave, and his own increasingly fluid and lush production style.
Even compared to very recent work like the 2021 EP Death of a Comedian, Home Alone shows how good Vallete has gotten at draping his electronic compositions with dark, gauzy, and decidedly somber textures. It's what gives tracks like club-contender "Station Stop" their shadowy character; the locked in drums and synths enveloped with breathy reverbs and delays that slowly expand with each added layer of programming. It's similarly what adds intrigue to "Mistress of Desire", with its whispered chorus and simple arrangement being given plenty of room for vaguely sinister synthlines and one-hit electronic percussion sounds to emerge and recede from the dusky edges of the mix.
As much as that overcast sensibility defines the record, it should be noted Valette never get too murky – the lighter touch used on short, interstitial instrumentals like "Sapsan" and "Lullaby of Malmö" allows them to act as palette cleansers with the emphasis on quick hits of melody over the maintaining the gloom. Solid blasts of classic synthpop and other pop-styled genres work their way in as well. The funky, wormy bass of "Adieu" which rollicks beneath the track's brighter programming and Valette's knowing vocals suggests Magnetic Fields in a decidedly swaggering mode, while the gated organ of "Crystal Heart" has more in common with a number of classic Eurodance tracks than the doomed romanticism of Henric de la Cour.
De la Cour is a productive point of comparison; like him Valette has a real sense of vocal charisma and knows how to frame his minimal crooning in such a way that his personality gets across throughout the record. Moreover, this is done in such a way that the chilly (but at times driving) atmosphere which has been so carefully built in the execution of the tracks is maintained rather than sacrificed. That sort of balancing act takes a while to master, and at this point in his career it's beginning to pay off very nicely for Valette.