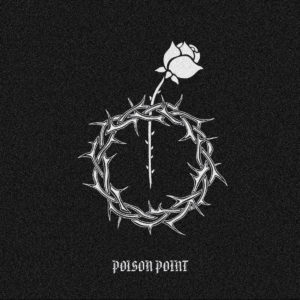 Poison Point
Poisoned Gloves
self-released
The release notes for Poison Point's new LP Poisoned Gloves mention that the project is now the solely made up of founder Timothée Gainet, a revelation that shades some of the changes on the LP. If you're familiar with the catalogue, there's a renewed focus to the sound of the record that becomes apparent across it's runtime; the elements of post-punk, minimal synth and other sounds that have informed the project at various points have been stripped down and smoothed out, leaving behind a lithe and muscled take on modern electro-darkwave.
Gainet has always shown a lot of strength at creating contrast between bleak and mournful moods and busy, sometimes manic instrumentals. While that's still very much a Poison Point's MO here, the refined arrangements, sound design and delivery give the material a sleek obsidian gloss. The layers of interlocking programming on tracks like "Blank Rearview" or "Crimson Skyline" aren't especially complex, but are fit together with a pleasing seamlessness that allows, synthesized basses, leads, drums and pads to whip around one another without crashing. That precision in execution is especially noticeable via some of Gainet's structural gambits: the syncopated breakdown that completely recontextualizes "Fallen Hearts" is arresting because it's a massive gearchange that feels completely natural, while the slippery high-pitched tones that float upwards on "Voidance" are synced to the beat in ways that bely their reedy and ephemeral qualities.
Gainet himself sounds quite at home on Poisoned Gloves, allowing himself some more room as a vocalist. On some previous recordings he sometimes sounded like he was either struggling to find his space on the track, his voice is allowed plenty of room and focus here. That means that on high-speed funhouse "Ordinary Madness" he can hiss and solemnly intone without being in danger of getting sucked under the swirling and stuttering bass, and can stretch his legs on the emotional "Every Two Nights" without having to pare away the layers of cymbals and chirpy synthwork that distinguish the song from its neighbours. Whether a function of strong mix, or of a dedicated attempt to keep his voice as a focused musical element, or likely both, it's the most present he has ever sounded on a Poison Point release.
For a band with a smallish catalogue of one LP and a handful of EPs and singles, there's always been a very recognizable personality to Poison Point's material, both in production and sensibility. Poisoned Gloves overhauls a lot of the band's approach but keeps its frenetic and fraught identity intact, allowing for moments of feverish energy and somber reflection to intermingle until they become delirious and inseparable. Recommended.