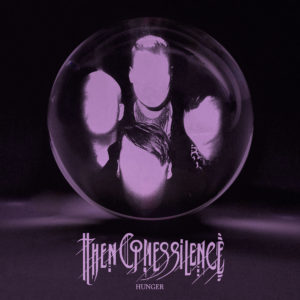 Then Comes Silence
Hunger
Metropolis Records
I liked the preceding record Monster by Sweden's Then Comes Silence well enough; while it didn't reinvent the wheel in terms of post-punk and goth rock, the band's polished production and performance and journeyman songwriting made it a satisfying listen. Follow-up Hunger continues in the vein of that LP, and while it has fewer standout moments across its eleven tracks the overall quality remains solid.
If that sounds like faint praise, then perhaps it's important to highlight just how good Then Comes Silence are at doing "their sound". While their first several studio albums had the same influences and sounds in play as Hunger, the mix of dark and heavy rock styles wasn't always as smooth as it is here. That adeptness in blending those sounds means you can have a classically goth number like sinister-riffing "Worm", with its busy cymbal work and Daniel-Ash-esque strumming sit right next to the slightly funky, new wave touched "Chain" and the hard rock balladry of "Cold From Inside" without any number seeming out of place. Similarly, the way they invoke different styles proves quite useful in adding variety to fairly stock genre numbers; the addition of a little death rock scuzz to the riff on "Weird Gets Strange" adds some nice grit to its second-wave posture, and the really excellent "Rise to the Bait" is benefited immensely by some extra chug and rock n' roll theatrics from vocalist Alex Svenson really sells the sticky chorus.
If Then Comes Silence's strength is in their dependability and overall wholeness, their weakness is that they rarely rise above pretty good. There's no point on the album that feels like a waste of time or undercooked, but also very few points where songs demand the attention of the listener. You can point to the things that give some personality to individual numbers – the nice falsetto background vocals on "Tickets to the Funeral", the kick-snare doubling on "Pretty Creatures" – but those kinds of details, while appreciated, aren't substantial enough to break through from respectable to actively memorable. Many of the songs are perfectly enjoyable in the moment, and then fade away the moment you move on the next.
While hardly a fatal flaw, it does end up begging the question of what draws a listener back for repeated listens. Like all the band's records there are a couple numbers that will stand apart depending on the listener's tastes (for my money "Rise to the Bait" is quite catchy and well worth inclusion on your goth rock playlist), which combined with their general dependability makes them a solid utility player when hunting to put something on. Hunger is reliable, if often unspectacular.