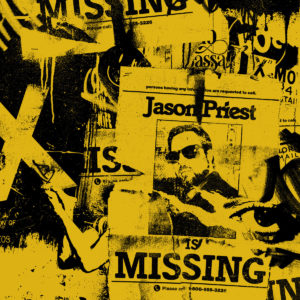 Jason Priest
Jason Priest is Missing
Midnight Mannequin
If you know Antoni Maiovvi from his italo-influenced synthwave and techno productions or soundtrack work (or as one of the founders of the genre-influencing Giallo Disco label), you're unlikely to associate him with the sound of his new LP under the alias Jason Priest. While you can find some connections between the music on Jason Priest is Missing and the rest of Maiovvi's catalogue it really is remarkable how well the producer adapts to the post-punk and wave milieu, crafting a suite of songs with the deft hand of a lifer in the style.
The closest comparison that makes sense for the LP is probably New Order's mid-to-late eighties period, in that it shifts pretty effortlessly between more rock-oriented numbers and more pure electronic compositions. Lead single "When the Clown Cries" best exemplifies Maiovvi's dancefloor-ready approach to the former style, using a muscly bassline and twinkling synths to set a tense mood before a more melancholic tune emerges via the vocals and sparse guitar chording. "Robes" integrates a busy bass synth and electronic burbles into the mix, its electro-styled percussion and simple guitar lead setting up an an effusively delivered chorus. It's a sound you've heard reconstituted many times by many bands from Cold Cave to She Wants Revenge, but Maiiovi executes it with an ear for hooks and clever electronic production touches to keep it lively and moving.
The more electronic numbers share the same craftsmanlike approach, using familiar building blocks with flair and songcraft. The bouncy disco of "Gone Upstairs" is shot through with some delicate and dreamy pads that hover like a melancholic cloud over the track's upbeat arrangement of synth toms and drum machine claps. Especially memorable is "The Power", the tense bit of programming that sets it up belying the big falsetto vocal turn from guest vocalist Mazzereth that cinches the chorus with just enough camp. While not the most gifted singer, Maiovvi acquits himself by staying in his mid-range lane and not getting in the way of the more vibrant instrumentation in the mix.
While nominally a turn as singer and songwriter for Antoni Maiovvi, Jason Priest is Missing really does benefit from his extensive experience in the studio. The songs are good across the board, but what elevates the LP from the vast swathes of similar retro-lite new wave and post-punk albums that flood Bandcamp is the confidence of their construction and the firm guiding hand of the artist as both performer and producer.