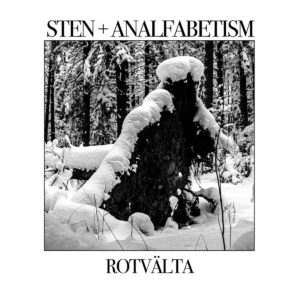 Sten + Analfabetism
Rotvälta
self-released
Fredrik Djurfeldt's Analfabetism project has grown into a somewhat more nuanced and sedate entity over the past few years, but that hasn't made for easier listening. Rather than the pure blasts of feedback which marked earlier works, textured drones with intermittent loops and distorted passages began to work their way into 2019's excellent Sjön Där Hon Dränkte Sina Djur. That same layered approach to noise can also be heard in new LP Rotvälta (which gives a spiritual co-writing credit to Djurfeldt's recently departed cat Sten), but there's definitely something new at work, but in mood and construction.
Deep and slowly shifting harmonic drones make up the bedrock of the record, with scrapes and cracking bursts briefly puncturing the fabric of the tracks. While natural landscapes have emerged as a theme in some previous Analfabetism releases, Rotvälta takes that to a whole new level (the title refers to the exposed roots of a fallen tree as depicted on the cover – a phenomenon for which I only now realise English has no word, despite it being a sight commonplace to any hiker). The rise and fall of the high pulses on "Den Lömska Skogen" sounds like the hooting of owls, while "Den Förskäckliga Kölden" evokes the distant call of wolves.
None of this makes for "easy" listening ambiance, however: this is still deeply dark and unsentimental work. The strained croaks which break through the claustrophobic hush of "Tegel", for example, sounds like what I imagine freezing to death in the sort of landscape depicted on the cover must feel like. Like so much of Djurfeldt's work, there's a perverse sense of calm and satisfaction which comes with listening to something so steely and impassive.