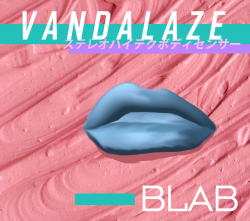 Vandalaze
Blab
Slimetrax
The aesthetic of Cory You's Vandalaze project, as communicated by album artwork and videos can make just as sharp a first impression as its music. While trying to describe to a friend the project's style, channel-surfing across late 80s/early 90s kitsch, he asked if it fell into the vaporwave realm. "Yeah, but no," I replied. "Less old Windows installations, more Rocko's Modern Life". The look and sound of Vandalaze's latest once again rides the line between the exuberant and the grotesque, shuffling rubbery synths and jittery samples to a range of effects.
You's deeply familiar with the history of post-industrial songwriting and production, as shown by the Covenant-style sequencing of "Icefade" and subtle but canny nods to early Puppy throughout Blab, but Vandalaze's appeal lies in You's ability to identify sounds and genres which have always been adjacent to that legacy, and bring them into a synth confluence which is far more open-ended. The bassline of "Fabrik Oblong" owes as much to Art of Noise as EBM, and the boisterous synth funk of "Omaha" comes across with wide-reaching technicolor appeal.
As with its predecessor, Big Diner, if Blab does have a failing it lies in You's vocals, which often reach beyond his grasp, often sounding more like demo takes than official release material. That's a shame, because it's clear that You's trying to leverage his voice as a key aspect to Vandalaze's quirky ethos. At times this works admirably – the drippy distortion the vocals are pushed through on "Measure Of Time" fit the song's mood well – but more often their production and delivery suffer in comparison to the capable instrumentation and production, as on the Max Headroom-like approach to "Wrong Channel" and the Jourgensen-style road-trip raconteurship of "Omaha".
In the case of a project as dedicated to pure weirdness as Vandlaze (I wasn't kidding about Rocko's Modern Life: check the Nickelodeon-style "boi-yoings" mixed in with orch hits on "Wrong Channel"), it's tough to say whether a sharper vocal delivery could run the risk of fouling what does work about Vandalaze. That question gets to the heart of what I've found so interesting about Vandalaze over the past few years: the spirit of You's work is instantly recognizable, yet almost wholly unique in the contemporary synth world, and I want it to find the strange overlap of melt movie and after school special fans it deserves.