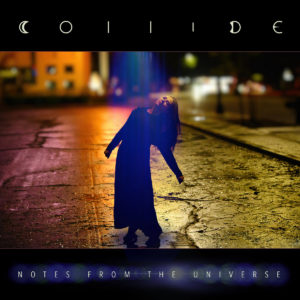 Collide
Notes from the Universe
self-released
Long-running Los Angeles duo Collide are an act who trade almost entirely in musical aesthetic at this point. This is a polite way of saying that vocalist kaRIN and producer/programmer Statik make music built on their history of sumptuous, atmospheric darkwave, with production and the establishment of their signature sound being more important than the charms of any individual composition. It's a double-edged sword on new album Notes from the Universe; one the one hand if you like Collide and want more of what Collide does, it delivers. On the other, it can be hard to latch onto individual based on their own merits.
Positively, Collide can continue to be relied on for immaculate sound design and production, and kaRIN's considerable vocal charisma is undiminished. Tracks like opener "Stardust" with its small touches of orchestration and the slinky, vaguely eastern "Haunting Me Still" are vintage Collide, expertly situating guitar, bass and drums against just the right amount of synthesized filigree. The approach is subtle in ways that almost read as slate of hand – check out how "Icy Cold" keeps kaRIN's low-key vocal delivery as a focus so that the track's forward momentum stays building without the listener consciously twigging it. The record is full of those kinds of expert touches (the stealthy but impactful breakdown on "Are You Better Now" or the way fuzzy guitar lines slide their way through "Oblivious"), and you can't deny the craft that went into executing.
The problem however is the album lacks standout moments. While the record is broadly very well made, and there are no specifically bad songs, there's also very few hooks that stick with the listener after each listen. Whether that's a result of songwriting or arrangement is somewhat debatable; I think you can make the case that the hook of "Turn Off Your TV" is solid enough but is diluted at an overlong 7:20, where "Freak Like Me" is assembled with precision but doesn't put enough emphasis on its strongest moments. Regardless, the record can easily slide into the background during a listening session, which is fine but underserves the tremendous amount of work apparent in its construction.
At this point in the multi-decade career Collide are a band that beckons to the listener, but doesn't demand their attention. If you can connect with that approach and find pleasures in Notes From the Universe's exceptional craft, it still has allure for their devotees. Otherwise the listener may find it washing over them without leaving a huge impression.