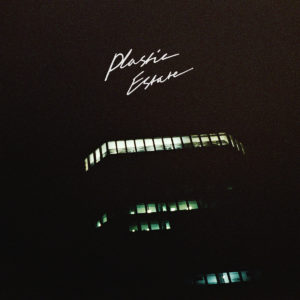 Plastic Estate
self-titled
AVANT! Records
Welsh duo Plastic Estate certainly don't lack for polish on their debut LP. It's not just the tasteful production or even the talent for melody shown on the record, but their ability to blend a range of styles while keeping the whole affair immediate yet substantive which makes it so enjoyable. Nicholas James and Stanley Fouracres' well-curated combination of synthpop, new wave, and a distinctly art-rock influenced mode of post-punk is put across with an ease which belies its panache.
While all recognizable and likely familiar to most listeners, the modes plied and influences drawn upon by Plastic Estate are charmingly delivered. The hop from the pure synthpop of "Out Of Reach" with its melancholy sunset melody to the arch and airy "Divinely Impaired" points to a confidence uncommon on debuts, with the contrast between Fouracres and James' vocals on the respective tracks adding further breadth. "The Difference" stakes out common ground between Cut Copy and Roxy Music which I'd never imagined existing, but seems incredibly organic once heard.
While, again, the band's influences are easy to spot, Plastic Estate often find moods all their own. As an example, note how James' reflective vocals act as a counterpoint to the classic disco pulse of "There Must Be More Than This". Rather than taking on the wounded, personal grandiosity of Alison Moyet, they have a metaphysical cast that's a bit more difficult to pin down (Brendan Perry on ecstasy? Craig Lorentson after a proper night's sleep?). That ability to hybridize familiar moods and ethoi as well as sounds runs through the record. Is the rescue from the quotidian promised by the titular city in "Berlin" a winking poke at one's own tendencies towards nostalgia and mythologizing, or an earnest prayer for the transcendence or growth that's been impossible to reach over the past two years? Regardless, it's winsome and weary in equal parts.
Recent records by House Of Harm and Creux Lies have been welcomed here at ID:UD HQ in part because they've illustrated how an interest in classic post-punk doesn't necessitate the by now bog-standard leather jacket and Joy Division bassline formula. While Plastic Estate don't especially sound like either of those bands, they share with them an ability to reach for a brighter and more varied expression of the genre, and a knack for solid composition. Recommended.