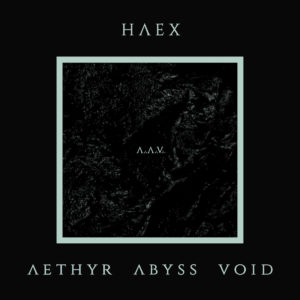 HAEX
Aethyr Abyss Void
self-released
HAEX's debut LP Aethyr Abyss Void has been a long time coming; the LA-based industrial project has been a going concern for some time now, with a host of shows under the belt and numerous challenges including abortive label relationships and lineup changes preceding Aethyr Abyss Void. A surprise release at the end of 2021, the album certainly captures the appeal of Adam Erebus and Sarah Graves' take on industrial rock via thick grinding programming and mechanical guitar chug, its aggression balanced with swirling atmospheres that speak to the band's esoteric interests.
If you're familiar with the small number of tracks HAEX have released previous to the album, its sound should be somewhat familiar: mid-tempo programmed bass and drums are adorned with Graves' precision riffing and Erebus' shouted vocals. The duo tend to favour economy in their arrangements and songwriting, letting songs be driven by the rhythm and keeping their impact strong by not overstuffing the mix with superfluous programming. That means that tracks like "Erebus" and "Cvrtain" live and die by how hard the band lay into the groove, which they do with gusto. Guitars, textural pads, synthlines and vocals all serve at the altar of rhythm, resulting in music that inspires movement, both sensual and violent.
Given that kind of instinctual appeal, it can be easy to overlook some of the clever ways HAEX have upped their game on Aethyr Abyss Void. A track like "Feast For Death" is a good example of the record's subtler charms; note how it keeps space its skeletonized verse for the crashing riffs of the chorus to burst through, and the added bit of elasticity that works its way into the drum programming for some extra swing. Instrumental "Bloodtoll" uses quick breaks in its rhythm to punctuate shifts in arrangement and introduce new layers of sound, leading to an inevitable climax. When going full-aggro on "Leviathan" the band sublimate the bounce of the bassline with a few extra layers of guitar to create more punch without losing momentum. These are all examples of things that work without you needing to consciously recognize them as a listener, a testament to HAEX's knack for the beneath the surface aspects of songcraft.
We named Aethyr Abyss Void one of our favourite records of 2021 before it was officially released – we felt it was honestly good enough at first blush to deserve those honours. A few extra weeks of listening to it has revealed a lot of detail in its construction, and the shrewd choices that give it its visceral appeal. Certainly a record that lives up to the long wait, and one that should act as HAEX's calling card going forward.