It's tough to get too reflective about the year that was or optimistic about the year ahead when we're right in the midst of another day-to-day crisis which is constantly changing. Will any of the live shows we gamely got excited about in the last few months actually happen? Impossible to say right now, but one thing that is for sure is that we're back in the saddle here at ID:UD HQ, ready to deliver another year of coverage of Our Thing. Let's get on with the first Tracks post of 2022.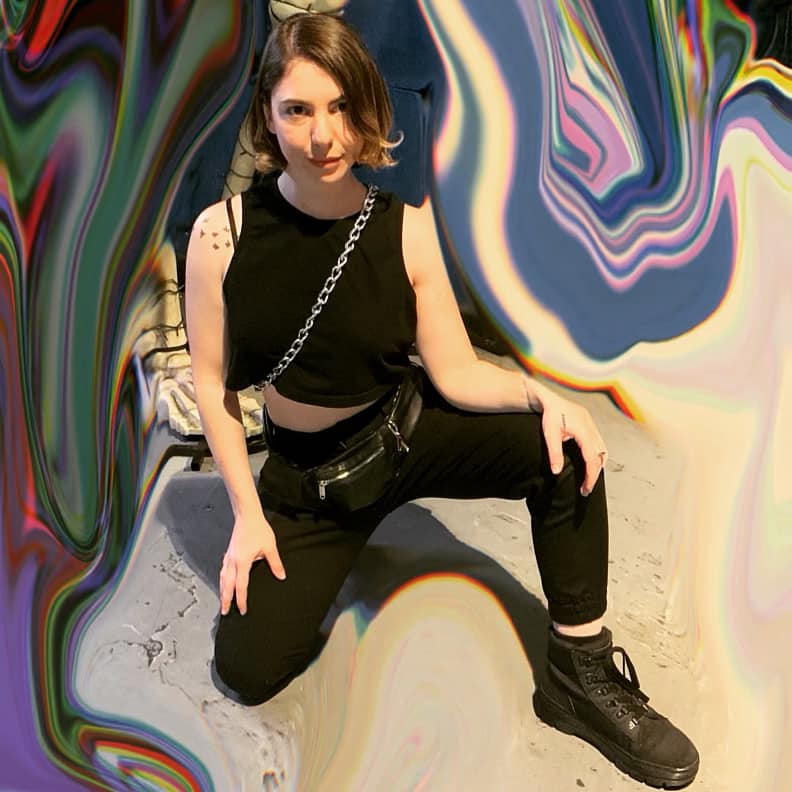 Kanga, "Monster"
Kanga's excellent You and I Will Never Die was one of our favourites last year specifically because we felt it too what we liked about her debut and emphasized her greatest strengths; namely her songwriting and her distinct persona as a performer and producer. With that in mind, we're quite taken with the surprise drop of "Monster", one that speaks to both her capacity for songcraft, and how she can wed a Numan-esque hook to a groovy bit of rhythm programming. Strength to strength as they say, this was a good way to start 2022.

Blakmoth, "Cold Still Remains"
If you've checked previous releases by any of the artists featured on Errorgrid's new comp, you won't be surprised at the premium Darker Sounds Of A Present Future Vol. 1 places on sound design. From the hi-def glitch of site faves Sleep Clinic to the deconstructed industrial metal of Broken Circuits to this elegantly harmonic dark ambient piece by Maryland producer Blakmoth, there's deep and rich resonance in spades here. Also, for another week the label's running a contest, accepting original tracks made up from the compilation's sample pack for an appearance on the next installment.

Klack, "The Politics of Dancing"
Klack has made a tradition of releasing a thematically appropriate cover every holiday season, and this year's entry was Re-Flex's "The Politics of Dancing". It's of course the sort of thing that Klack excels at interpreting; the original's awkward new wave funk transitions perfectly to Eric Oehler and Matt Fanale's brand of groovy new beat. It's also a nice opportunity for Oehler to show off his vocal range, as he and Fanale go high and low respectively on the chorus. Keep 'em comin' fellas, they're never unwelcome.

Marea, "Virgo Lucifera Feat. Ana Gartner"
Columbia's Pildoras Tapes had a banner 2021, with South American body music releases from across that catch-all genre's spectrum, and they made a point of sneaking in one last missive before the clock ran out. The Virgo Lucifera EP from Medellín producer Marea hangs in a darkwave/minimal wave register, fleshing out its straightforward architecture with nocturnal ambiance. As always with Pildoras Tapes, the mixes on the B-side have plenty of manic fun tacked on.


Sierra, "Control"
2021 was a breakout year for Parisian producer Sierra. While her music speaks to a very specific intersection of body music and high gloss, high production techno, not many folks from Our Thing were paying close attention when she dropped the tremendous "By The Rules" single, and from then on it seemed like everyone was spinning her and talking her up as a name to watch. Hot on the heels of her collaborative EP with Matteo Tura she has a new one See Me Now due mid-month. First taste "Control" is sounding just right: post-Gessafelstein bassline, an insistent vocal hook and a big cinematic climax all feature heavily. As the EP title implies, eyes should stay glued to Sierra in 2022.

Supreme Court, "We Are Dumb"
Interested in winding the clock back by about two decades? Sure, who wouldn't be at this point. The first new material from Supreme Court in over a decade sounds exactly like whatever memories you might retain of the German harsh electro project, from the murky production to the doofy kicks to the acid-distortion vocals. Hell, there's even a Fiendflug remix of this single for extra throwback appeal.