We're not sure what to credit it to, but there's been a bustle of activity on the ID:UD Twitter of late. Queries are being fired in and out, all manner of recommendations are coming and going, and there's a hell of a lot of punning and general silliness to boot (we blame much of the former on Alex Reed). We like doing long-form pieces (like the recent Lycia one), and will often retreat into near-hermetic states while trying to properly focus on albums for review, but we also love talking with all of you cats: hearing about what you're listening to, finding out what additions you'd make to any of our lists or topics du jour, and more than anything realizing that just as there's a wide range of great new dark music coming out, there's also a wide range of people listening to it. So if you're one of the folks we regularly yammer with on Twitter, thanks for making the whole project of ID:UD feel a lot more personal and grounded. If you're a regular reader or listener who mucks with Twitter, don't feel shy! Give us a holler. On to this week's Tracks!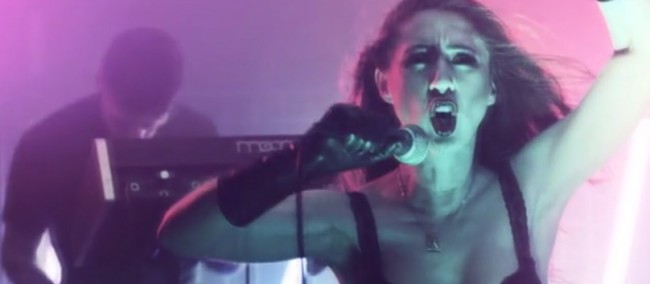 Snog, "Cheerful Hypocrisy"
We mentioned it on the podcast the other week, but it bears repeating here; Snog has entered the rarefied territory where they have automatic interest from us regardless of what direction Thrussell is taking the project in. Spaghetti western influenced electro? Yup. Folk record? We're there. Orchestral interpretations of the catalogue? Sure thing. Goodness only knows what this first taster for the forthcoming record suggests (beyond the usual sardonic take on our consumer culture), but hey: it's Snog. We'll be there.

Tearist, "Headless"
Feels like it's been forever since we caught new stuff from Tearist, and while this isn't entirely new, it's still plenty hot. Turns out there's been some shuffling of personnel, with Yasmine Kittles taking the reins predominantly to herself. This super slick and lush revamp of "Headless", then, works as a nice turning point between the band's past and future. One way or t'other, Kittles' live show is not to be missed, full stop.

"HEADLESS" by TEARIST from Purple Magazine on Vimeo.
Randolph & Mortimer, "Enjoy More"
Randy and Mort have the UK EBM game locked up right now, with the tracks from their banging debut EP $ocial £utures staying in our playlists since they first emerged. We're always happy to have something new though, and this single release is totally hitting the spot with it's ace percussion and sharp sample work. Still surprised some label hasn't snapped these guys up for a 12″ yet, but the project is still young and their future is looking very bright indeed. Stay on top of them.

Soft Kill, "Current"
Tobias Grave's been very open about the personal demons which have been behind the erratic emergence and disappearance of Portland's Soft Kill (and Blessure Grave before that) at various points over the years. Things seem to have leveled out, and a year or so of work has culminated in new release Heresy. The tunes here feel a bit more raw with drums and guitar far more loud and clear in the mix, but this is still the same mournful post-punk Tobias has been flexing with for quite some time. Incidentally they've got a dozen or so shows coming up, mostly west coast and a couple with Chameleons Vox.

Carter Tutti Void, "f=(2.6.2) (edit)"
Goodness only knows when we'll get the opportunity to review the new LP from Cosey Fanni-Tutti, Chris Carter and Factory Floor's Nik Void. We're swamped right now and to be honest it's the kind of music that absorbs you to such an extent that it's hard to take notes, or even concentrate on its specifics. Thankfully for those who don't want to give up an hour to its hypnotic pull, we've got a handy little promotional edit to share. Take warning though, it'll lead to wanting more and god knows how long any of us can hold out against it.

Killing Joke, "I Am The Virus"
You don't need a couple of knuckleheads like us to tell you about Killing Joke (though if you're curious…). Twelve years since their glorious return they haven't run out of steam, nor faded to a pale Xerox of their former power, nor stopped finding new, colourful, and beautifully violent ways of being Killing Joke. We'll have something to say about Pylon when we get our mitts on it, but for now revel at the carnival…

In Death It Ends, "Gematria II"
Keeping up with Porl King's In Death It Ends output has been nothing short of grueling. Yes, he's mostly dropped the unicode making it easier to find his online releases and presences, but the limited vinyl, tape, and CDR pressings are flashing by at an inordinate speed. Not content with releasing two full-lengths this year, he's also just dropped a two-track single as a direct download from his site. The second track in particular nails the mix between ghostly and driving sounds that IDIE trades in, and almost recalls tunes by the underrated Beautiful Skin project. Download it.