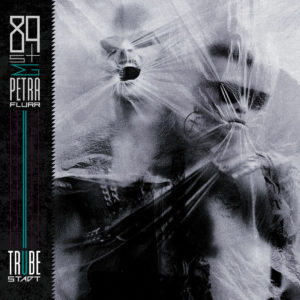 89s† & Petra Flurr
Trübe Stadt
Oráculo Records
German performance artist and all around synthpunker Petra Flurr has a knack for never staying in one place too long. Moving from Horrorist mixes to gigs with Sigue Sigue to a recent collaborative record with Unconscious which combined techno and minimal synth experimentalism, Flurr's eclectic style fits in with plenty of genres and neighbouring artists. Teaming up with Berlin-by-way-of-Mexico producer Carlos GrabStein, AKA 89s†, for a second time, Flurr digs in on some classic EBM in fun and fast-moving fashion.
The minimal synth flourishes of Monotone Zone, the duo's first LP, are reined in on Trübe Stadt. The stripped-down, staccato approach to composition which guided that record is still in place, but is amplified by a heavier and more explicitly old-school EBM style which adds some heft to tracks like "Discipline" and "Autoritär". The latter's bass programming has a claustrophobic echo, the meanness of the sound well-suited to Flurr's cocky vocals, while the former has the sort of spidery arpeggiation and filtering acts from Spetsnaz to Spark! have used to solid effect.
Though it's generally aggressive and hard-hitting, the speedy tempos of Trübe Stadt and 89s†'s production and arrangement tics keep things from ever getting too ponderous. Shifting textures and grains of squelching bass frequencies emerge out of "Durchatanzen", slowly adding colour and shape to its minimal form, while the beeping of a heart monitor phasing in and out of sync with the beat of "Near Death" nicely offsets its regimented clatter. Even in the classic EBM programming of "Antidoto" a bit of icy, Kas Product-esque sheen can be heard.
If you're a fan of the various strains of EBM, synthpunk, and electro Flurr and 89s† are bringing to bear here, nothing on Trübe Stadt will necessarily be a surprise, but neither will it disappoint. More than its core elements this is a record which trades in style, swagger, and the subtle combining of sub-genres and eras which might go unnoticed by neophytes.