Love is Colder Than Death's Teignmouth (1991), and Bedless Bones' Sublime Malaise (2019)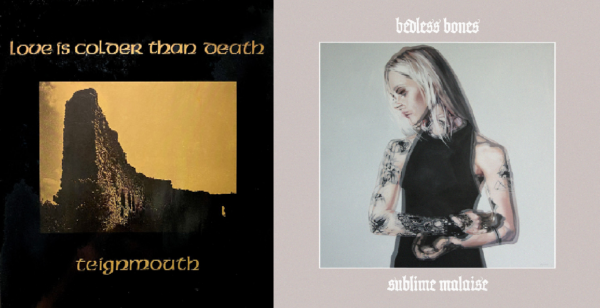 Love is Colder Than Death's debut LP Teignmouth was widely available to North American audiences thanks to licensing via Metropolis Records in that label's early days (it, and its follow-up Mental Traveller are the first two Metro catalogue numbers), and handily outlined the German neo-folk/darkwave act's approach to music. Their heavy use of synthesizers and drum machines, along with the distinctive and commanding voices of Susann Heinrich and Ralf Donis meant that the album's tracks had a tangibility and carriage that some of their later, more ethereal LPs would trade for atmospherics and more ambitious orchestral arrangements. Teignmouth's strength lies in the baroque way LICTD use electronics and sampled sounds to create music that is both traditional (vocal and organ cuts like "Questo Mostrarsi" and the pagan "Very Ill") and modern for the time ("Chorn" displays a strong Die Form influence, and "Wild World" should be on any tape of great 90s darkwave club hits).
That same melding of traditional and new era sensibilities is present in Sublime Malaise from Kadri Sammel's Bedless Bones. Songs like "Where is My Voice" have a rock solid foundation of electronic percussion and bass, but don't lack for ambience, both thanks to Sammel's evocative vocal style, and her subtle application of synthetic textures. Alternately Bedless Bones can do moody and mournful with the best of them ("Hyperpyrexia", "Losing Control"), or be ready for the disco ("Drifting", "Niobe"), each stylistic turn maintaining the project's continental charms. Perhaps in something of a nod to their history, Metropolis has licensed Sublime Malaise this fall, providing new audiences with an opportunity to take in the album's studied and evocative power.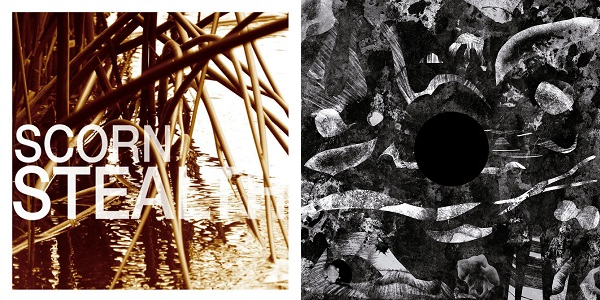 Scorn's Stealth (2007), and Gorgonn's Six Paths (2023)
The whole scope of of Mick Harris' work is far beyond the purview of a format like this, but the announcement that the former Napalm Death drummer turned musical polymath was formally retiring his Scorn project seems as good a reason as any to revisit this, just one of many Scorn records which link wide swaths of dark and heavy electronic genres. Metal, industrial, noise, and most importantly dub have always sat at the centre of the Scorn ethos, and it's tough to find an entry in that world that's heavier, darker, and more unrelenting than Stealth. Back in the mid-aughts when pioneering Hyperdub records were just about to be bastardized into the brostep atrocities which would haunt popular culture for the next few years, Harris found a way to connect cutting edge industrial atmospheres with the deepest roots of original dub, all delivered with precision and crushing weight.
Drawing upon the same obsession as Harris' with the heaviest and most impassive of dub frequencies, Goh Nakada's Gorgonn project looks back upon the same dub ur-sources with a similarly cold and steely eye, but from a different vantage. Nakada's collaborations with The Bug (not to mention Harris' former Napalm Death bandmate and industrial legend Justin Broadrick) have ultimately led to the emergence of Gorgonn, a project shaped by Nakada's years in the dark techno scene as much as dub. The approach to glitches and beats may differ from Harris' in their syncopation and execution, but the swarming, enveloping waves of deep bass frequencies which flow through the ears and into the most reptilian corners of your limbic system are one and the same.