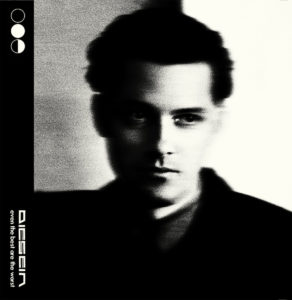 Diesein
Even the Best are the Worst
self-released
Laslo Antal's Diesein project picks up pretty much exactly where debut LP Songs About Sally left off with new release Even the Best are the Worst. As one half of Sixth June, Antal has never been a stranger to cool, continental darkwave sounds, with the most notable distinction of his solo outings being a slightly brighter musical palette. That's still true here, although the LP is washed with a very potent mix of melancholy and dark synthpop stylings that invokes that genre's golden mid-eighties era.
Indeed, the first thing that comes to mind when hearing single "Find Your Love" is Black Celebration-era Depeche Mode, between its plinky lead, bubbling bassline and a small collection of vocal hooks that vacillate between admonishment and wounded plea. It's a corker of a tune before the saxophone solo swoops in to take it to saxgoth heaven, an audacious bit of arrangement that highlights Antal's canniness when it comes to assembling his songs. The record's other obvious club bids like lead track "Sophia" and "Hypnotised" work the same formula with some effective variation – the former adding a funky fretless bassline, the latter pushing snapping gated snares to the front of the mix along with twinkling analogue synths.
The album's real strength is in its measured, smoldering moments, of which there are plenty. Key amongst these is "Someone Else Tonight", a slow-boiling ballad that uses all of Antal's instrumental tools to build out a robust structure where his plaintive vocals are sheltered. It's the kind of song that feels delicate in mood but rock solid in construction, a trick that Diesein repeats on the closer "How to Be Alone", where the snapping percussion underscores Antal's candidly accusatory vocal. When Diesein goes more ephemeral it has a suprisingly new age vibe; check the Enya-plucks and brassy synthwork on mid-album head-nodder "Only Friends".
It's not any surprise that Lasla Antal is good at writing and producing this kind of music; whether working solo or in Sixth June he's zeroed in on how to invoke nostalgic sounds without ever sounding crass or imitative. Perhaps Even the Best are the Worst's most relevatory quality is how much deeper he can draw from that well, drinking from even deeper waters than his previous efforts. For fans of the preceding LP or Sixth June the record should act as an affirmation, for those who are only now discovering Antal it listens as a sweet, tempting discovery. Recommended.