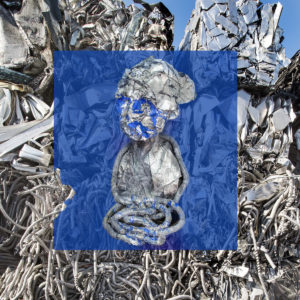 Pod Blotz
Transdimensional System
Dais Records
Suzy Poling's Pod Blotz has been forging a defiant path through electronic music since 2002, forgoing popular trends and styles for broad experimentalism. New record Transdimensional System (her first for Dais) speaks to that personal legacy, as well as a more general view of the history of synth music: the record's foundation is built on samples and recordings Poling made at Oakland's Vintage Synthesizer Museum. As an album it has the wormy, discomfiting and starkly curious sounds we associate with Pod Blotz, but also has moments of surprising and unearthly beauty.
In its most accessible moments the LP deals in fuzzy minimalism and rhythm. "Extrasensory" almost feels like a nod towards minimal synth with its delayed drum track and droning bassline, plus a soupy texture that hypnotically crawls back and forth across the stereo spectrum, while Poling's voice gradually dissolves from words to processed synth textures. Less drum-focused but with an added dose of eerie atmosphere is opener "Pain is a Door", where a thrumming synth sequence is foundation to decayed drones and ghostly vocalizations that never quite coalesce fully. The appropriately titled "Industrialized Living Effects" feeds that formula through a mechanical filter; it maintains the spookiness of the preceding track but adds a clicking and chugging sequence that sounds like an engine with bad timing shaking itself apart.
The album's back half is host to some more meditative turns. "Lights in the Middle of Nowhere" abandons structure for dueling patterns of blunted synth patches that shuffle and deconstruct themselves into lo-fi noise. There's something calming in listening to the track slowly evolve and devolve, and it acts as a companion piece to the languid "Double Helix", a soundscape of alien beauty that achieves a similarly anodyne listening experience through wet, burbling sequences and drawn out tones that modulate impassively across its length.
It's on "Unified Totality", a track square in the center of Transdimensional System's tracklist that Pod Blotz sounds simultaneously the most abstract and the most characteristic. Minus any of the album's most obvious drum elements, it layers thick waves of noise and synthesizers atop one another until the whole becomes monolithic and finely detailed in equal measure. Depending on the angle you come at it from as a listener it's either sanguine or perturbing, an abstraction of sound and music that invites gut level reaction and interpretation. That sort of basal feedback is Pod Blotz' wheelhouse, and can be experienced in abundance across the brief but paradoxically vast LP.