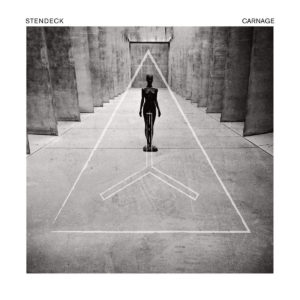 Stendeck
Carnage
Hymen Records
Okay, we don't really call it IDM anymore, but should we even still call it technoid at this point? The sometimes glitchy, sometimes ambient style plied by producers like Switzerland's Alessandro Zampieri (AKA Stendeck) is often politely hermetic to a fault. Eschewing much of the social dimension of music (both IRL and virtually), technoid's charms and substance are often left unsaid, with producers often preferring to 'let the music speak for itself' and its listeners prioritizing solitary, headphone listening. While that might not stir up as much hype for the style as other genres, it's also left it almost bereft of gatekeeping and hair-splitting genre debate (the likes of which you'll find all over this particular site), and given artists like Stendeck the liberty to pick up, drop, move on from, and revisit its theoretical core elements as they see fit.
Coming a few years after the attention-grabbing Scintilla, Stendeck's 2015 LP Folgor was an absolute masterpiece, with Zampieri taking on orchestral ambitions while at the same time making tasteful use of then-new outrun melodies. New LP Carnage may not quite equal its predecessor in scope or affect, but it's damned close. As on Folgor, Zampieri pushes into plenty of lush soundtrack-like vistas which have far more in common with modern art music and kosmische traditions than the noisy foundations from which the genre theoretically extends. However, Carnage is a record where those same glitch and breaks roots are revisited and reconsidered with almost quaint affection. "Streams Of Oblivion" buttresses the clockwork kicks and programming which gave Scintilla so much warmth and drive with some classically distorted breaks and noise. Rather than serving as a chilly counterpoint to the track's warmth, those theoretically austere elements are brought into the welcoming circle the piece builds.
Sure, there are other junctures where percussive intensity holds sway, as on the trembling sidechained compression of "Red Neon" or the slithering glitch of "Queen Of Beauty Tragic Obsession". But more often than not those are used to underscore dynamic, rhapsodic shifts over the course of a piece (despite generally lengthy run times, none of Carnage's individual pieces ever stay pat for too long). The war between the tightly sequenced percussion and pastoral planes in "On The Shore Of The Dying Sun We Will Find Temporary Peace" eventually reaches detente via the Debussy-like piano refrain which closes the record.
Thematically, Carnage feels much more open and florid than its title or brutalist cover art might suggest. The titles of tracks have something of a Magnetic Poetry cut-up vibe ("Eyeless Creatures Gently Stifle The Ivy Lady"), but strangely their excess allows the mind to freely wander as one listens, juxtaposing scenes or images without a larger narrative. Similarly, Kristi Lyn Scaccia's vocals on "Somewhere Nobody Knows" and "The Downstairs Room" point to fleeting snapshots of emotion or imagery ("So many hopes falling / Nothing is left but bats on the ceiling / A souvenir of the narrow stairs").
Between Scintilla, Folgor, and Carnage, Stendeck has released a trilogy of albums which have stood astride a lengthy period of technoid history. In those ten years labels and projects have emerged and disappeared, and plenty of sounds which originated in technoid circles have migrated into broader media scoring, and vice versa. And yet without drastically changing his approach in that same decade, Zampieri has always sounded ahead of the game. Recommended.