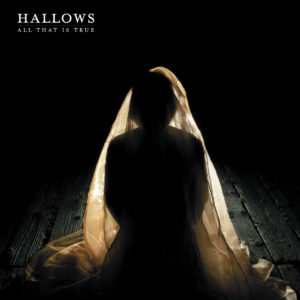 Hallows
All That Is True
Cold Transmission Music
Seattle's Hallows have a take on post-punk and darkwave is far more rooted in a sustained, hazy atmosphere than one specific iteration of those genres. All That Is True, their first full-length, is a less blustery and noisy affair than their debut Subtle EP, but fills in the spaces left by some of the absent clatter with a persistent and uneasy miasma, to generally solid effect.
Though the synths, bass, and unassuming but effective vocal styles of both Dom R. and Vanee D. shape the majority of All That Is True, each of those elements is pressed into different services. The ghostly, skipping darkwave of "All That Is True Dies" has, on paper, very little to do with the doomy overdrive of "Defeated", with its saturnine bass remaining at the forefront of the track. But in both numbers and in the record's moves through numbed-out coldwave and cresting shoegaze waves, there's an unnameable, woozy presence which hangs in the mix like midnight humidity.
It's the tension between those musical styles (and a couple more) which the duo hit upon while maintaining the aforementioned atmosphere which acts as All That Is True's throughline. Influence spotting along the way is easy enough – the vocal framing of Black Nail Cabaret, the oppressive synths of fellow Seattleites Nightmare Fortress – but the duo's commitment to the record's reverential, pensive mood makes sure they aren't pushed out of frame on their own work.
The pervasive mood of the record can make some of the more minimal tracks feel a bit underwritten; the shared atmosphere between them and the richer numbers nixes some of the austere charm they might otherwise have. But even taking that into account, All That Is True gets what works about Hallows across to new listeners, even if what that is feels unquantifiable.