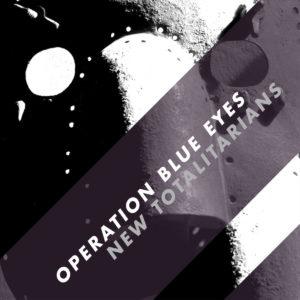 Operation Blue Eyes
New Totalitarians
self-released
Jonas Hedberg's post-The Pain Machinery work as Operation Blue Eyes has largely favoured more low-key sounds; as with last year's Poison Arrows you can definitely hear some classic body music under the surface of New Totalarians, but the songwriting and arrangements keep things laidback and melodic. It's a mode that works for Hedberg, providing his distinctive voice space to get across and some room to play with genre. "March in Step" starts with a thrumming bit of bass that could belong to a big club stomper, but is rapidly put in service of a slick slice of electro-pop, with distant chimes and fuzzy leads that serve as a backdrop for Hedberg to croon over. "Regime" does a similar trick, putting a snarly bass guitar line and delayed synthline out in front like it's going to be a darkwave overture, but ends up expanding outwards via big but subtle pads that rise up dynamically when required. When the EP does focus in on a particular sound as on electro-industrial number "The Price of Dreaming" Hedberg still resists going hard, focusing in variations of rhythm programming and subtle modulation to build up the song's considerable groove. As with previous Operation Blue Eyes Releases, it's an EP that plays things close to the vest, forgoing big gestures for subtler charms.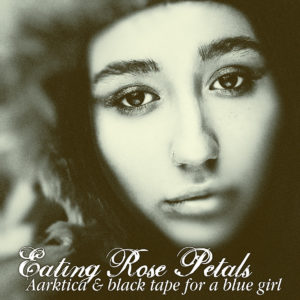 Aarktica & Black Tape For A Blue Girl
Eating Rose Petals
Projekt
Feeling spread a bit thin or wound too tight under lockdown? If so, Sam Rosenthal has you covered, offering warm, comforting succor in the form of a new collaboration with Jon DeRosa's (Dead Leaves Rising, Pale Horse and Rider) solo Aarktica project. The backstory is a bit involved, but what this three-track, near-forty minute PWYW release has on offer is an original Aarktica track from last year, a reconstitution of the track by Rosenthal featuring both back-masked vocals Rosenthal extracted from the original and DeRosa doing a phonetic recreation of said back-masking (!), plus a coda/reprise of the latter. That sounds far more conceptually convoluted than the experience of listening to Eating Rose Petals could ever be, as what Rosenthal and DeRosa offer up, both alone and together, is a beautiful, languid reverie resting upon the dynamics between sustained tones (Rosenthal's shimmering pads, DeRosa's lightly plucked acoustics) and the rich but vulnerable timbre of DeRosa's voice. The shifts between DeRosa's original (already dreamy) lyrics, his non-lexical recreations, and the slightly unearthly backmasking tap into the mind's desire to tease out syntactic meaning even when there is none (the effect is not unlike Bowie's "Subterraneans" or the Guthrie/Foxx Mirrorball collaboration). Ultimately, though, you'll find yourself abandoning such efforts: giving in to the warm, slow slipstream of image and memory Rosenthal and DeRosa conjure is far more rewarding than any semantic pursuit.