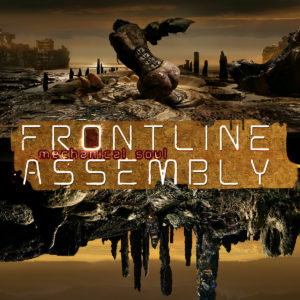 Front Line Assembly
Mechanical Soul
Metropolis Records
Bill Leeb's Front Line Assembly is a band that exists broadly in eras, from the earliest demos and explorations of their electro-industrial sound, through their golden era in the early to mid nineties and then through numerous stylistic experiments with electronica and modern EDM production styles up to the present. Mechanical Soul is the second LP of the current incarnation of the band, an era defined by the return of the Rhys Fulber to the FLA fold, and the application of his considerable production skill to the band's current melange of industrial and electronic sounds. Unlike its predecessor Wake Up the Coma, which felt like it was trying out numerous ideas and styles with mixed results, Mechanical Soul feels unified and refined in approach. That unanimity across the record's ten originals is both a blessing and a curse; it's an excellently produced LP with plenty of grooves, but infrequently shifts out of first gear.
Leeb and Fulber have had a decades long on and off working relationship, which might account for the generally comfortable and smooth feel of the record. Check out lead single "Unknown": a classic Front Line bassline is supplemented by deep rolling synths and Leeb's processed vocal delivery, breaking out into a shockingly lush chorus accented with string pads and layers of synth programming. While not mellow, it has a calm and reflective spirit that ends up feeling surprisingly reassuring. That's a unique tone in the FLA catalogue, and one the album approaches not entirely successfully a few more times: see the buzzing, spacey tones on "New World" that never quite coalesce into a full song, or the slow rolling ending track "Time Lapse" that is perhaps just a bit too laid back in arrangement for its massive crashing synth textures.
Indeed, the issue with Mechanical Soul is often the songwriting. While the return to basics often starts promisingly – see the DAF-like bass sequence that opens the record on "Purge" – too many songs lack memorable choruses or hooks and pass by in a haze of admittedly excellent production and tasteful sequencing. Leeb's characteristic vocals certainly lend traditional flavour to the record, but never rise to the level of his work on classic anthems.
This isn't to say that the record is bereft of charms – they're just far more subtle than we're used to hearing on a FLA record. The reprisal of Jean-Luc De Meyer's vocals for "Future Fail" on 2006's Artificial Soldier, now here applied to a wholly original musical composition in "Barbarians", is unexpected but works well. The grand elegy for a falling empire the lyrics demand is delivered by Fulber's rich and regally rolling downtempo programming. The stripped-down EBM minimalism of "Komm, Stirbt Mit Mir" perhaps borrows a page from the industrial spaciousness of Fulber's forays into contemporary techno, and sprinkles in just a whiff of classic electro-industrial programming to adorn its rubbery rhythm with some smokey miasma.
There's no question that Mechanical Soul represents a leaner iteration of FLA than those we've had at hand for many, many years. While at times that does sound like a return to the project's roots, at others it sounds like an attempt to harmonize the band with the current electronic milieu. The question of whether individual tracks sound more like Caustic Grip or Berghain may rest in the ear of the listener, but those judgments may take a while to settle – to be frank we're still finding our opinions on individual tracks shifting. That's not the worst thing: the place of individual records within a legacy as long as FLA's isn't something to be rushed.