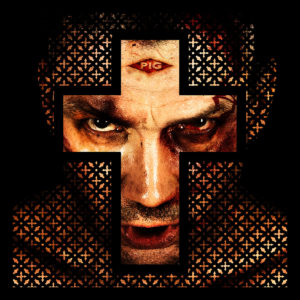 Pig
Pain is God
Metropolis Records
It's not the easiest thing in the world to assess an album like Pain is God. I think in many ways the key lies in your personal relationship with Raymond Watts' work as Pig: as a record it indulges and highlights those things that have made him such a cult figure in the broader history of industrial rock. I don't think it's really a stretch to say that Watts is aware of that niche standing – his current persona is a sort of figurative evil preacher character addressing his flock – and whether or not he was consciously attempting to cater to that audience, it's an album that both and lives and dies by how interested you are in the artist making all his signature moves.
The bulk of Pain is God is squarely in the mid-tempo industrial rock realm, with big guitar riffs, straightforward synth and rhythm programming and Watts holding court vocally. It's a familiar formula for Pig, and one that has yielded many of his biggest and most memorable songs. So although the title track, "Rock N Roll Refugee", and "Drugged, Dangerous & Damned" don't bring much to the table in terms of innovation, they fit nicely into the Watts songbook. There are even some nice touches of some of Pig's further afield musical adventures, like the loungey organ and horns that adorn the bridge of "Cursed", the evil beatnik funk that runs through "Badland" and the eastern orchestral motifs on "Confession (The Sacrificial Mix)".
Still, taken as a whole it's hard not to feel like this is Pig-by-numbers with few chances taken. It could be that many of the cuts have been out in the wild in alternate forms on various EPs and singles over the last few years, but the album is often just a reminder of other more bracing moments from Pig's catalogue. Witness the massive faux-gospel closer "Suffer No More" which feels like a pretty broad and uninspired extension of the Diamond Sinner material, or how he covers KMFDM's "Kickin' Ass" (a song he provided the original vocals for more than 30 years ago) but offers nothing in the way of insight or variation in execution. Watts' charisma and swagger as a performer helps wallpaper the record's conservatism to a degree, but given his longstanding image as a prophet of perversion, it's weird to hear him play it safe.
Pig doing Pig is fine and good if that's what you want, and you can't really fault the record for delivering on what a hardcore fan of the project would be presumably be interested in hearing in 2020. Still, one can't help but feel like some of Pig's unsavoury and unexpected sensibility has been washed away in service of delivering a record that trades more on familiarity than anything else.