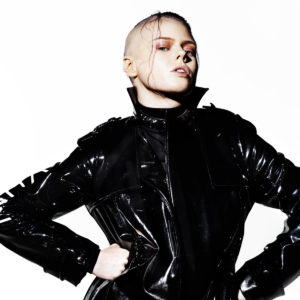 Rein
Reincarnated
Rein Records
The path from Rein's self-title 2016 EP to her first full-length LP hasn't been a straight one. While Swedish producer and performer Joanna Reinikainen's earliest material was decidedly of an EBM stripe, later singles found her exploring electro and pop sounds, which led some listeners to wonder what her debut LP would sound like stylistically. Pre-release single "Bodyhammer" certainly suggested the possibility of a record of EBM bangers, but Reincarnated is actually a lot more interesting than that: in synthesizing both classic body music with pop and even R&B sounds Rein has carved out a largely unexplored new electronic music niche.
It's a mixture that works due to Reinikainen and co-producer Carli Löf's keen ear for the commonalities in the styles they're drawing from. "Reactivity" uses a jumped up syncopated electro beat and manipulated orch hits as the basis for its instrumental, both arranged in such a way that it reads as a punky synth throwdown when Rein is growling, or a funky freestyle affair when she's doing a "Vogue"-esque clean vocal. Similarly the delayed drums and sharply programmed bassline on "Release Me" read as quite rivet, where the plucky lead that pops up in the mix brings the track a classic NRG flair.
As a record it's also a showcase of Reinikainen herself as a personality. "Closer to Reality" is as close as she's come to a pure pop number, and she acquits herself mightily with the her clean-sung vocals, backing herself with her own familiar yell, each providing an angle on her style as a performer. While we've certainly heard her explore numerous vocal deliveries in the past, there's something to hearing Rein really push the power of her voice on one of the album's low-key gems "Dystopia", putting over the song's understated vocal hook with unexpected soul and confidence.
For all the record's personality and bold stylistic moves its greatest asset is its compulsive listenability. The songs are brightly produced and sequenced to showcase Reincarnated's variety and personality. At a hair over half an hour it goes down smoothly for casual listening, while not skimping on potential club numbers – any DJ worth their salt should be able to find a place in their set for the banging techno hybrid of "Accelerate". It's as solid a first LP as you could ever want, justifying our expectations for Rein and securing her position amongst 2020's most intriguing producer-performers. Recommended.