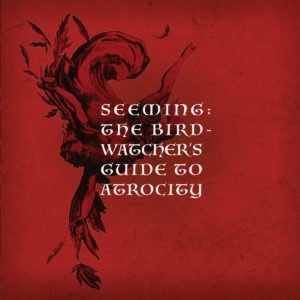 Seeming
The Birdwatcher's Guide To Atrocity
Artoffact Records
"Go Small", the first single from Seeming's new album The Birdwatcher's Guide to Atrocity is a strong indication of the both the record's aims and its scope. Alex Reed's two previous albums as Seeming have dealt with big ideas directly; namely the end of everything and what a world without us would look like, and if the end of everything we know and are is even a bad thing in the grand scheme of it all. Although there's no way Reed could have known the horrors 2020 had in store when writing the lion's share of Birdwatcher's Guide, it's still a record that feels very of the moment; where Seeming has always addressed apocalypse as a broad concept, this album is about living through the beginnings of one, and how to cope. When Reed sings "When the world is crowned in flame / Write something you can understand" on "Go Small" it's a comforting message, for himself and by extension those who have been drawn into the very personal and vibrant world of Seeming's post-gothic, post-everything music. "The Earth is radiantly suicidal" might not be a line you expect to hear in a hopeful song meant to relieve anxiety rather than induce it, but Reed's long since staked his claim amidst the chaos and horror of the anthropocene. Writing a sincere song which took up naive optimism would have always been a stretch for Reed – in 2020 it's a literal impossibility. "Go Small", like much of the record, stays with the trouble (to paraphrase Haraway) and offers maps, first aid kits, and foraged food recipes.
While not belabored, the record does spend time establishing how exactly how grim things are; something that must be acknowledged before Reed can start to apply a balm. Album opener "The Fates" deals with it in a style that sets the mood for the record; rather than an enumeration of end time horrors, the artfully composed mixture of percussion provided by by long-time collaborator Aaron Fuleki and experimental percussionist Sarah Hennies (who also is credited as co-producer on the album), piano, horns and synths slowly accelerates until it tops out in an ecstatic explosion. This kind of joy in the face of annihilation isn't new for Seeming but it is especially germane to this record's aims: finding something to hold onto and doing so for dear life. In the case of the funky dulcimer and noise-pop of "End Studies" it's a furious vow to make the future "Borderless / And Red and Queer and Gold" even as it all comes apart. On "Remember to Breathe" it's about finding a reason, any reason to stay in the game. The latter song is as good a song addressing suicidal ideation as has ever been written, with a choral arrangement made up of short vocal samples arranged to mimic breath and provide layered melody, a recognition of the draw of oblivion and a gentle and a non-condescending reminder of all the things to keep in mind during that struggle.
We've seen, just earlier this year in fact, how a short turnaround time yields a different brand of songwriting and humour from Reed (compare the posthuman pastiche of Midnight To Midnight's "Generation Z" with the charming extended conceit of "Light A Fire"). Birdwatcher's Guide is, by Reed's own admission, a less ambitious LP than its two predecessors, and perhaps as a result the bon mots are scattered in amidst the inventory of the apocalypse: "In a world where the virus is really the world / Where burning dogs laugh 'this is fine'". Giving one specific date for each song's lyrics in the liner notes adds to a sense of instant reflection and reportage. It's not all satirical quipping from the side-lines of the end times, though. "Permanent" takes a break-neck turn into personal tragedy and trauma with no warning, leaving Reed trying to collect himself and the song's very structure for the remainder of its run-time. Splitting the difference is the surprise appearance of no less venerated a pop terrorist than Bill Drummond. Descending from his self-imposed exile like a Byzantine stylite, on "Learn To Vanish" Drummond enumerates steps one can take to sidestep eschatological anxiety (the knowing, arch tilt in his Scottish brogue as he advises us to "build a fire" is heartwarming). He's a near-perfect avatar for the themes and strategies Reed maps on the record: Drummond and Jimmy Cauty's dedication to total effacement of fame, of wealth, of self has, of course, become an ironically unforgettable part of the myth of The KLF, but now seems an eminently sensible course of action in an age of lifestyle brands and influencers, when we're all clamoring at the gates to give ourselves over to the panopticon.
Like we said, The Birdwatcher's Guide To Atrocity may not have been undertaken with 2020 in mind, but it sure as hell sounds like living in it feels. It's a record which can mood swing between the vengeful suicide mission of "The Flood Comes For You", in which Reed frantically drowns robber barons in rising oceans amidst metallic clanks and bird calls sampled into klaxons, and "Reality Is Afraid", a bright, clarion ode to the latent feeling that this might be the year in which we really do have nothing to lose but our chains. If 2017's "Doomsayer" found Reed digging into his own Cassandra's curse, he needn't worry about being dismissed out of hand here: we're all watching, all grieving, and all struggling to stay in place or move forward. The Birdwatcher's Guide To Atrocity offers succor without bromides, pop without schmaltz, possibility without delusion. It's dangerous to go alone: take this. Highly recommended.