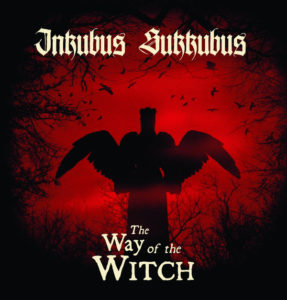 Inkubus Sukkubus
The Way Of The Witch
Pagan Fire Muzick
2019's Lilith Rising was noted upon release as being the twenty-fifth LP from long-standing pagan goth rock act Inkubus Sukkubus. While we could perhaps split some hairs regarding live records and the odd best-of, there's no question that the band, still centered around vocalist Candida Ridley and guitarist Tony McKormack, now stand as one of if not the most prolific acts in the history of goth. With such a lengthy extant history, Inkubus Sukkubus are modulating rather than reinventing their sound at this juncture, but new LP The Way Of The Witch does give stronger focus to some neo-classical and folk elements.
An opening suite comprised entirely of synth strings and the martial fanfare of "Angelus Bellum" set the tone for a decidedly less rock-heavy outing from the band. Inkubus Sukkubus have worked with folk instrumentation for years, but after the almost entirely acoustic Tales Of Witchcraft And Wonder concept trilogy from a few years back, it's taken on a more prominent role in their primary releases. "Beneath The Moon And The Trees" uses plucked guitar and choruses to convey a sense of the reverential, while "High On The Hill" has a cozier, dream-pop mood suggesting Bel Canto or even Cranes.
That's not to say that The Way Of The Witch is a complete break with Inkubus Sukkubus' musical roots. "In The Shire That Made Us" has the sort of anthemic guitar lead upon which the band cut their teeth, and "And The Sea Shall Consume You" is a lean and strident dash. Both the rocking and the softer tunes retain the band's knack for catchy and immediate melodies, and do a good job of keeping Ridley's vocals – unmistakable to any longstanding goth rock aficionado – in the front of the mix.
If thirty-plus years of music almost exclusively dealing with folk and pagan themes might be a non-starter for more casual goth listeners, the trade-off is that Inkubus Sukkubus are able to delve far deeper into those issues than any Ophelia-come-latelys. Take a look at "Where Have You Gone, My Daughter?", which examines the ethical quandary of how or even whether to raise the changeling which the fae have left in place of your own abducted child. That's just not the sort of tune you're going to get from a brand-new darkwave act wearing Blackcraft and sporting crystals bought off Wish.com. Inkubus Sukkubus remain true to the ethos they created decades ago, and it's always rewarding to check in with them.