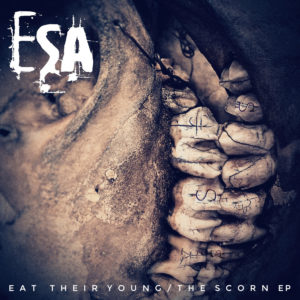 ESA
Eat Their Young/The Scorn EP
Negative Gain Productions
ESA's Burial 10 was an early favourite at the HQ in 2020; as an LP it acted as a showcase for Jamie Blacker's strength as a performer and producer of pummeling and atmospheric compositions. New EP Eat Their Young/The Scorn is being positioned as a companion to that album, and as a comparatively more accessible entrypoint to Blacker's version of melodic and ferocious rhythmic noise. Opener "Eat their Young" features a return guest vocal from Caitlin Corlyx (who featured on Burial 10's "You Are Safe Here") has plenty of club appeal with numerous builds and releases across a wide plane of ominous horn-like synths and a nasty bassline, occasionally accented by appearances of Blacker's own powerful voice. "The Scorn" finds Blacker in a more techno-oriented mindset, using his rhythm programming and sample carving chops to push a deep groove. Those track's considerable DJ appeal notwithstanding, the most intriguing thing on the EP is "It Takes Over", a syncopated technoid number that combines both Blacker's voice and operatic vocals. It feels like a call back to some of the earliest ESA material but executed with the project's modern toolset, an accessible nut no less ferocious window into Jamie Blacker's contemporary work.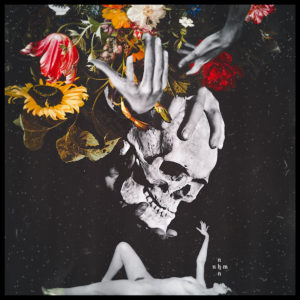 NNHMN
Deception Island Part 1
Oraculo Records
NNHMN's earlier 2020 release Shadow in the Dark established the act as part of the current wave of minimal darkwave acts. New EP Deception Island Part 1 doesn't deviate hugely from that release, while still providing some additional wrinkles in the duo's approach. "The River of Fire" injects a dose of italo into its bassline, which paired with a slightly more ethereal vocal delivery brings to mind new wavers Bronski Beat albeit with a depressive sheen. While the title track sticks to their established sound "Hero" introduces some busier electro drum programming and richer synths to the mix, growing the misty dancefloor appeal of the track considerably. "Nachtgang" works a similar sound to good effect, with big breathing reverb ambience as a counterpoint to the cymbal snaps and pounding tom rolls. It's quality stuff that while still sticking to a pretty strict template manages to vary the goings on and avoid being derivative.