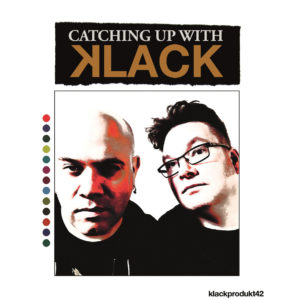 Klack
Catching Up with Klack
Razgrom Music
What is it?
Klack has been an unexpected but not unwelcome success story over the last two years. Wisconsin scene veterans and longtime friends Matt Fanale (Caustic) and Eric Oehler (Null Device) first conceived of the project on a trip to a local Ikea (hence the name), a sort of in joke based on their mutual love of classic sampledelic new-beat and EBM sounds. The huge response to debut EP Do You Klack? led to two more releases, Introducing The 1984 Renault LeCar and 2400bps 8​-​N​-​1 along with a smattering of covers, remixes and b-sides. Catching Up With Klack (the title and artwork being a reference to Depeche Mode's compilation of early tracks and singles) is a compilation of a largeish portion of the material the duo have released thus far, originally conceived as CD for the European market but also available now via Bandcamp.
What's on it?
Catching Up With Klack compiles 17 tracks from Klack's first three EPs, with the addition of bonus track "Goddess" as a bonus for this specific release. The band are quick to note that all of the material is still available in its individual format as pay-what-you-want on Bandcamp, with the original intention of the Bandcamp release being a vehicle to sell their copies of the CD release. That said, it's a pretty good way to experience Klack: early tracks like "Do You Klack?" and "DMF" show off their capacity to replicate the downtempo, heavy beat sounds of Belgium with nods to sample-happy dance producers like Information Society and The Shaman. Later songs like "The Games We Play" and "Lost Without You" show off their synthpop side, highlighted by Oehler's sweet vocals, where the Fanale-led "Discipline" and "With Precision" make good use of body music tropes in their construction. Hearing all the songs arranged for a large-scale release illustrates how many different sonic variations to their sound Klack have touched on in their comparatively small catalogue, as well as just how much fun their music is to listen to. More than a one-note throwback act, Oehler and Fanale have built Klack into a vehicle that references their influences, but has the songs and personality to stand on its own.
Who should buy it?
Catching Up With Klack serves as a good all-in-one introduction to Klack, and probably holds the most value for folks who aren't already familiar with them. Those who have already purchased the digital releases of the original three EPs probably don't have a reason to pick this up beyond bonus track "Goddess", although the band have sent buyers of the release on Bandcamp a bonus EP of alt. mixes and versions as a thank you. That might give it a boost for completists, or appeal to those seeking to support the band with a few extra bucks.