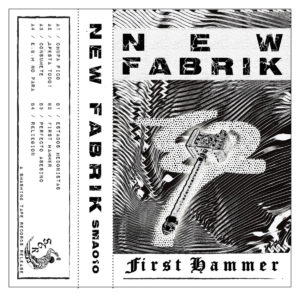 New Fabrik
First Hammer
Smashing Tapes
Germany's Smashing Tapes label has carved out a well-deserved rep for ferreting out rough-edged and often aggressive throwback EBM from hitherto unknown acts. First Hammer, the debut release from one-man Chilean act New Fabrik, is no exception. While its conscious homages to canonical EBM founders aren't subtle, First Hammer has more than enough energy and instinct to avoid looking shoddy in comparison to its influences.
Jeremias Venegas has been writing and playing as New Fabrik since 2010, meaning he's had an inordinately long amount of time to get his house in order and prepare a strong batch of tracks for his first proper record, and on the whole he's up to the challenge. There's immediate punch to "Consumente" that owes more to the lean and sparse economy of the track than any specific sound or rhythm. There's nothing which seems unnecessary or indulgent across the mini-LP's twenty-two minutes.
Even though it's not reinventing the wheel, First Hammer engages with its influences in a smart way. While the core structures and rhythms of many of the record's tunes feel indebted to DAF through and through, Venegas spikes them with programming that's slightly sharper and more acidic than Gorl and Delgado's go-to sounds. The jumpy sting of the synth leads on "Chupa Pico" has some early 90s electro to it (possibly Psychic Force), while "Apesta Todo!" connects the earliest EBM to more recent oddball revivalists like Sturm Cafe.
A record like this is, of course, primarily of interest to EBM die-hards (possibly yourself if you're still reading this) who are happy to have certain stylistic itches scratched, but appealing to that sort of need is part of the fun of a release like First Hammer. That its impossibly limited tape run, like all of Smashing Tapes' releases, was quickly snapped up speaks to the cult appeal an act like New Fabrik is likely to enjoy. And deservedly so – pared down and well-constructed, First Hammer shows off how throwback EBM can work well when done properly.