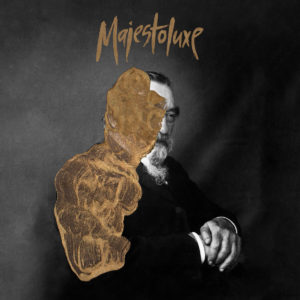 Makestoluxe
Dry, Cold & Free
Kess Kill
One of the broader failings of neo-oldschool body music has been the focus on the muscle n' hate template that comes from DAF's Alles is Gut via Nitzer Ebb's That Total Age. The specific focus on the propulsive and aggressive nature of that sound does a disservice to the arty weirdness that permeates the earliest examples of EBM. Conny Fornbäck's project Majestoluxe taps into that oft-overlooked aspect handily on third LP Dry, Cold & Free, presenting analogue synth sequences, sample cut-ups and whispered or chanted vocals in off-kilter and sometimes surprising fashion.
At its most accessible, the songs on Dry, Cold & Free tap into the familiar sequences basslines and drums of body music, but subvert their straightforward nature in interesting ways. The opening two tracks "Business Angels" and "A Stampede of Unicorns" are good examples of this ethos in action; the former starts with pulsing synths and shuffling drum sounds that gradually become more degraded and filtered into oblivion, while the latter's looping central pattern has much of its momentum skewed by alternate rhythmic and percussion sounds that stretch and compress the groove in hypnotic fashion. The best track in this style is "Damned if You Do" on which Conny lays out the rhythm arrangement dry before coating it in layers of saturation and noise and his own reverbed vocals, invoking the Klinik's more funky moments.
A lot of the album's flavour however comes from the more outré tracks interspersed throughout. "Ultramodern Manifesto" pairs vocal samples with a flat, distorted synthloop and clacking drum hits and filtered stabs of noise that approximate the sound of a blown speaker. Digital bonus track "Golden Magic" is that same aesthetic but minimalized, while "EOT Anniversary" adds a strident and sardonic vocal to the mix, a broad change from the growls and whispers of Fornbäck's usual delivery.
Dry, Cold & Free is really something that works best as an album; while individual tracks are enjoyable enough in their own idiosyncratic ways, it's when they're listened to in sequence that Majestoluxe's aesthetic feels most impactful. Rhythmic and measured without succumbing to predictability, it trades in a strain of old school EBM that values mutability as much as it does movement.