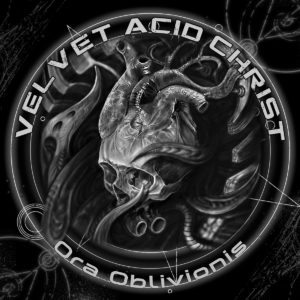 Velvet Acid Christ
Ora Oblivionis
Metropolis Records
Bryan Erickson has been making music as Velvet Acid Christ for more than 25 years. During that time VAC has embodied a kind of constancy; regardless of what subgenre has dominated the dark club scene, regardless of the state of industrial as a whole, VAC has released a new album of psychedelic, depressive electro-industrial every couple of years without fail. There have been changes in the project's line-up and stylistic diversions to be certain, but ultimately Erickson's sensibility as producer, writer and performer has remained at the core of Velvet Acid Christ's music. New album Ora Oblivionis isn't any kind of exception in that regard: its twelve songs act as something of a summary of the band's oeuvre thus far.
At one end of the spectrum you have tightly sequenced uptempo numbers, delivered with a smattering of vocal samples. The record's opening tracks "Conviction" and "Adventures in Babysitting the Antichrist" (possibly the most VAC song title possible) embody that style perfectly. The former spices things up with some cinematic drums and the latter uses some rather thick acid lines to accentuate the chorus, but both tracks conform to the template Erickson has been gradually refining since his first demo recordings. He's good at it, and the particular way he executes it is so recognizably his he might as well have a patent on it. His knack for a catchy sequence or synth riff pays off in those cuts; see gritty club contender "The Bullet Wins" or "Cog" where Snog's David Thrussell guests, doing his best impression of himself circa the early 90s.
Still recognizably in the project's wheelhouse but not necessarily as consistent are some of the album's other stylistic excursions. Erickson has applied guitar effectively many times in the past but it's a mixed bag here: the chuggy industrial rock riffing on "Twist the Knife" is turgid and dull, the instrument is applied far better as an accent on "Wrack". There's also a contrast between the record's downtempo instrumentals, with "Conjuro" succeeding on the strength of its eastern flavoured melody and "Not of this Earth" which goes for a similar vibe but comes off as a less successful version of the former song. The album's best deep cut might be "The Colors of My Sadness", where dreamy pianos build up to an electro bassline and a Ladytron-esque vocal that fit perfectly within the project's small but enjoyable catalogue of darkwave numbers. The record is honestly somewhat uneven as a front-to-back listen, something it shares with more than a few releases in the band's discography.
As an album of individual songs Ora Oblivionis' value lies less in bringing new things to the table, and more in whether it can tap into whatever affection the listener might have for Erickson's work from various eras. It's Velvet Acid Christ, warts and all, and there's a level of comfort in that that shouldn't be discounted or disregarded. Whatever happens in the broader spectrum of Our Thing, whatever style is ascendant, Bryan Erickson is wholly, sincerely himself.