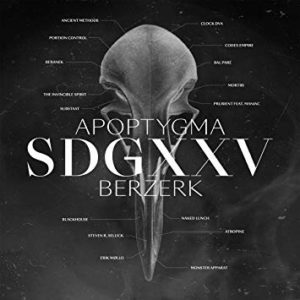 Apoptygma Berzerk
SDGXXV
Tatra/Pitch Black Drive/Artoffact
To celebrate the roughly quarter-century since the release of their debut LP Soli Deo Gloria, Stephan Groth's now venerable Apoptygma Berzerk have released SDGXXV, a remix release made up of songs from the former album. That record's ornate, gothic (as in the literary genre, although it was also touched by goth and darkwave) take on EBM and electro-industrial was highly influential at the time of its release, a fact that is often obscured by the group's later forays into trance-inflected futurepop and alt rock. Consequently a release that offers up takes on the material from a variety of acts from Apop's native Norway and around the globe would seem the perfect opportunity to show off how far the record travelled, and the breadth of the artists it touched.
In terms of its remix roster, SDGXXV speaks to early Apoptygma Berzerk's broad legacy across the spectrum of industrial and related genres. Techno industrial act Ancient Methods' reinvents "Burnin' Heretic" as a rapidly cycling club monster, maintaiing much of the track's melodic appeal and melodrama while also injecting it with a does of thick synth bass and dancefloor thud. Legacy industrial acts Clock DVA and Portion Control who may themselves have been influences on early Apop take on "Stitch" and "Spiritual Reality" respectively, bringing a test of their contemporary production style to each song in surprisingly effective fashion. You even get some oddball inclusions like obscure vintage electropop act Bal Paré doing a charming minimal version of "Ashes to Ashes", and cult Norwegian satirist and musician Beranek doing a lovely expansion of "ARP". Even the reinventions that stick a little closer to source material are pleasant enough, with The Invincible Spirit, Substaat and Cronos Titan acquitting themselves well on their outings.
That said, some of the songs on Soli Deo Gloria simply don't provide enough of a canvas for remixers to do much of interest with them. "The Sentinel", originally a 1:14 long interstitial track that was essentially a vehicle for a thematically appropriate vocal sample gets remixed TWICE, by Blackhouse and Prurient. Their doomy, death ambient takes on the track aren't bad per se, but they barely register as being related to Apop because, well, "The Sentinel" isn't especially memorable. Similarly, Mortiis' orchestral take on brief piano-based figure "Walk With Me" is fine, but feels a bit over the top given the slightness of the source material. To be fair, the two part opening and closing instrumentals "Like Blood From the Beloved" are substantial in spite of the original's lengths, and the reinterpretations by Steven R Sellick and Erik Wøllo tap into some interesting prog and cosmic disco vibes that align nicely with some of Groth's recent analogue synth experimentation.
As a celebration of Soli Deo Gloria, SDGXXV ultimately succeeds by volume more than insight; listening to the releases back to back, there are few to no new perspectives to be gained. That said, the overall quality of the remixes is good, and there's an undeniable charm in hearing a young buck body music producer like Codex Empire have a go at a classic like "Backdraft". Mileages may vary, but fans of early Apop are likely to find more than a couple numbers to their liking.