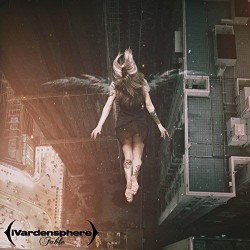 iVardensphere
Fable
Metropolis
Tracking the evolution of Scott Fox's tribal industrial project iVardensphere since their debut has made for a fascinating case study in how dark electronic producers develop and refine their sounds in the current post-industrial (post-club?) hothouse of hybridization. We've been following iVs from halting steps to confident strides, and are well (or perhaps uniquely) positioned to comment on their six year, five album cycle; through numerous live incarnations, stylistic developments and leaps forward in execution, we've been there in real time, examining, discussing and enjoying each fresh (and almost impossibly rapid) development. So without wishing to belabour the point, know that when we say Fable is the best iVardensphere album yet produced, we know of which we speak. If 2013's excellent The Methuselah Tree was the moment in which Fox and company's ambitions towards cinematic grandeur really crystalized, then this is the LP where those sounds come home and reintegrate with the analogue electronics and mix of acoustic and electronic percussion that have always formed the project's foundation.
If there's ever been a suggestion that Fox and his collaborators have struggled to reconcile their more grandiose orchestral leanings with the grinding rhythms of their dancefloor oriented material, then Fable should put those concerns to rest. The contrast between portentous Carnivale-sampling opener "Million Year Echo"'s glitched synths and distant choirs and the smartly constructed debut single "Stygian" that follows it is instructive: the former is a table setter for the record's atmosphere and mood, the latter a naked overture for club play, but both are unmistakably the work of the same project. Both tracks stem from a sensibility that goes far deeper than instrumentation or the use of signature sounds. Indeed, the fact that the album features a host of iVardensphere's regular contributors (including regulars Yann Faussurier and Jamie Blacker and newer additions like vocalist Mari Kattman) while still sounding exactly how we understand iVardensphere to sound is a tribute to Scott Fox's vision for his band and his capacity to find and integrate like-minded allies. It's a kind of level-up, where a song like the pounding "A Tale of Two Wolves" feels like a new iteration of the monstrous instrumental synth and percussion jams that have been the group's hallmark since their debut, only bigger, more powerful and above all more compulsively listenable.
The rapid fire switches between bass-heavy stompers and moodier tunes feels like one of Fables's strengths which might have come across like indecision earlier in Fox's plotting of iVardensphere's path. The ebbs and flows between a rager like "The Woodsman And The Serpent", an interstitial vocal piece like "Disir", and the earthy downtempo numbers which crop up towards the end broaden Fable's reach without overextending, yielding a more satisfying sense of albumcraft. We'll admit to perhaps being influenced by our close poring over of each iVs release, but the similar breadth attempted on sophomore release Bloodwater brought to mind easy comparisons to Fox's sources of influence (Iszoloscope and This Morn' Omina, namely), whereas Fable exceeds that album's ambitions while sounding far more in line with the incredibly precise senses of rhythm and sound sculpture Fox has located in the interim.
While some of the best moments in the iVs catalog have come from unlikely or surprising combinations of musicians, you can't undersell how important the partnership between Scott Fox and Jamie Blacker has become to the identity of iVardensphere. Nearly half of Fable's fourteen tracks feature musical input and vocal performances from Blacker, whose rich, resonant voice provides an important note of continuity throughout the album's run time (as always, we remain amazed Blacker stays mum on his own ESA records). The Voster EP gave us a good sense of how well these two could work in close quarters, but rather than coming up with an entirely new ethos from scratch, Fable's perhaps even more impressive for finding a way for Blacker to slide in as an unmistakable and inseparable contributor, without fundamentally changing the pitch and feel of Fox's project as it's organically developed over the years.
From its beginnings as a club minded project drawing on comtemporary harsh and grinding elements, and through its integration of an ever-widening percussive sense, iVardensphere was a project "for" certain groups of people or certain sensibilities: music for the club, a record for people interested in rhythm-heavy electronics with a certain meditative quality, a record for those who enjoyed the band's earlier work but would be open to a more ambient take on it. Fable marks the moment where these last qualifications melt away, and we cease having to give context for our endorsements of iVardensphere. Yes, it sounds like everything the project has tackled before, and more, and does each of these things better than ever, but Fable finds iVardensphere moving beyond whatever immediate niche appeal their foundational sounds and genres might have, and becoming a band that simply must be given attention, full stop. Strongly recommended.