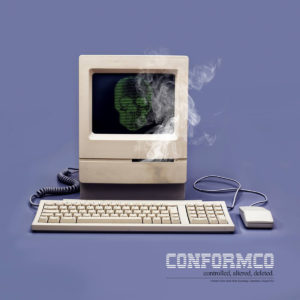 Conformco
controlled.altered.deleted
Glitch Mode
It probably shouldn't be a surprise that a new project from Cyanotic's Sean Payne and Project .44's Chris Harris would hearken back to the Wax Trax era: both artists have been longstanding fixtures of the Chicago scene and paid fealty to its celebrated industrial rock history even as they became a part of it. The specific vein the duo mine on Conformco's debut controlled.altered.deleted is the heavy groove and sample style pioneered by Al Jourgensen and Paul Barker in their Luxa/Pan guise, shot through with some more modern perspectives on that material and its legacy.
Debut single "eighty-sixed" is Conformco at their best, arranging a flurry of pitched-up orch hits over a funky electric bassline, tortured and stuttered vocals and a flurry of samples. It plays as a 2018 take on a PTP track, but doesn't necessarily suffer from the comparison, leaning into the homage hard enough to justify itself. You get a similar vibe from the aggressive "supply+demand", where a charging arpeggiated synthline runs up and down across the track and Return of the Living Dead dialogue sounds out, invoking the era of 12 bit samplers and 12″ remix singles. Speaking of remix singles, Conformco make a point of offering up songs in extended and altered arrangements. "into the cut [funk-o-tron]" is a maxi-sized and club ready take on "eighty-sixed", with the addition of numerous programmed instrumental passages, where "demand supply" ups the rock ante over its source material with blasts and squeals of guitar.
The songs on controlled.altered.deleted are obviously indebted to the project's influences, but you can't fault Payne and Harris for having fun with such an iconic template. While classic EBM and 90s dark electro have scads of acts borrowing liberally from their playbook, very few bands have turned their attention to the sounds Conformco are staking their claim to. To whit, when the big kick-snare drum sound and electric bass a la "Attack Ships on Fire" kicks in on "time to conform" or the joyous sampled sax break in "we are conformco" busts through the mix in all its downsampled glory, its hard to find fault with them, tributes though they are. If the songs had less energy and verve to them it might be a different story, but Conformco hit the right balance of snarky charmy and creative reverence to make it hang together.