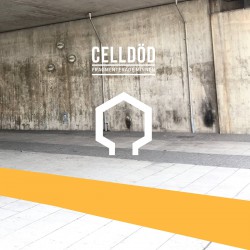 Celldöd
Fragmenterade Minnen
DKA Records
In a recent interview with Bandcamp daily, Anders Karlsson noted that "I [Karlsson] like the sound of cheap hardware that many people would never use. I like bad-sounding digital effects, old spring reverbs that have a sound of their own, and semi-functional gear." That preference has been pretty apparent to followers of his solo-project Celldöd, a name that has stood for rough, DIY-EBM since it first emerged in 2014. At the outset that emphasis on grittiness seemed like a reaction to the smoother direction his previous band The Pain Machinery had taken to body music on its final release, but with 2018's Fragmenterade Minnen Celldöd sounds more fully realized as its own entity, complete with a distinct and recognizable production aesthetic.
While Celldöd's hardware-based compositions – made via an array of classic drum machines and synths alongside cheap and salvaged gear – have always sounded somewhat lo-fi, the key to their success has been in how immediately Karlsson pinpoints a groove and then squeezes every ounce of energy out of it. Nearly every track on Fragmenterade Minnen introduces its bassline within seconds and then rides it out, ornamenting the framework with reverbs, delays and layers of recording dirt. Whether a down the pipe EBM number like "Vrider", a double-time synthpunk workout like "Alla Har Fel" or a deliberately awkward minimalist composition like "Hotet Från Underjorden (Dub)", it's always the arrangement of synth bass and noisy hats and kicks that make up the body of the song. Karlsson knows how far to push each composition, and when to cut them off as their energy and momentum begins to flag, never letting anything become exhausted or played out.
The biggest departure apparent on the LP is the emphasis on Karlsson as vocalist. We know from his previous work that he's more than a capable singer, but here he shrouds himself in effects and goes guttural with his delivery, grunting and yelping his way through each song. It's a fitting style for him to take on for the material, and one that places his voice in the same category as the various acid squeaks and squelches and washes of static that make their way through the audio spectrum, a textural element rather than a melodic one. It speaks to Karlsson's philosophy as a producer; as he slowly expands the palette of sounds available to Celldöd, he also takes care not to betray the sound he's cultivated, aligning his new tools with his proven approach.