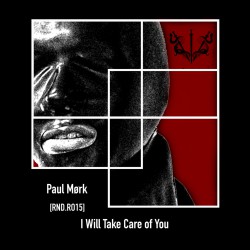 Paul Mørk
I Will Take Care Of You
RND. Records
The appetite for techno-industrial crossover music shows little sign of abating in 2018, and with that popularity comes a glut of uninspired releases that ape surface elements of the style without direction or inspiration. Thankfully there are plenty of emerging acts like French producer Paul Mørk who are still finding interesting angles from which to approach dancefloor music with a rusty edge. His new album I Will Take Care Of You feels tough in the right ways, engaging with the bleakness and physicality inherent in the mesh of styles without sliding into cartoonish aggression or cutesy detachment. Songs like "Devotion" and the pounding "Self Destruction" recall classic rhythmic noise in their use of distortion, layering in samples and swathes of monochrome static that fill the cracks between the tightly sequenced drum patterns. Elsewhere "Armor" and "Rebreather" explore up-tempo techno rhythms, the former using sinister vocals for a cool European vibe, the latter going all in with a tightly wound 16th note bassline that threatens to derail the whole song before it can fully play out. There's even some flirtation with EBM on "Confess", which establishes a solid groove built around rubbery bass, chunky leads, and horror movie pads. There's a goodly amount of variety on I Will Take Care of You, and Mørk has a deft enough touch as a producer to bring unity to the proceedings without simply producing a suite of identical songs.
Buy it.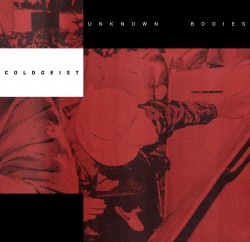 Coldgeist
Unknown Bodies
DEMENT3D
So often when we talk about the industrial-techno crossover, we're drawn to the textures of beats and a particularly grimy atmosphere. The latest EP of Coldgeist, aka French producer Matthieu Ruben certainly puts a premium on atmosphere, but rather than the clutter of abandoned factories, Coldgeist (Matthieu Ruben) taps into the spirit of his moniker, conjuring icy mists and polar drones to wind their way through stripped-down yet still punchy tracks. The end result has far more in common with dark ambient than techno/industrial hybrids generally produce, and is an all the more intriguing listen for it. The swampy drones which blare overtop the muted kicks of Unknown Bodies are perhaps not too far off from the claustrophobic horns of Klinik or, more recently, the ethos of Silent Service and Vatican Shadow. However, for all their heaviness and presence, these elements feel lithe and changeable, often seeming to invert the direction of the rhythms in an instant. Further variety is added through tips of the hat to the classic coldwave of Ruben's homeland, such as the anxious guitar shimmies of the title track, or the sprained rhythm of "Martyr Of Beauty". Despite juggling a number of styles and sounds in a relatively compact six tracks, Ruben's never caught slipping and feels just as adroit at charnel moans as he does club-minded beats. Heady and intoxicating, Unknown Bodies moves through numerous climes with grace, and has plenty to offer the inhabitants of each.