Replicas is the handle we use to write about reissues and archival releases, offering some thoughts on the original material, and whatever additional goodies or format shifts may have been appended. This week, one of our favourite new darkwave acts cleans out their closet…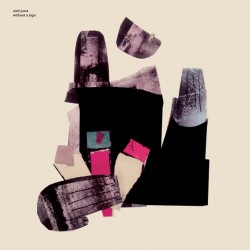 Sixth June
Without A Sign
aufnahme + wiedergabe
What is it?
Berlin-based duo Sixth June crafted one of last year's most sumptuous releases in Virgo Rising, and are right at the fore of the excellent resurgence of darkwave (in all its incarnations) we've recently been privy to. But the band's roots go much further back than their most recent work, and are releasing Without A Sign, a collection of demos and outtakes which span their ten year history. The end result is an odd, inverted history of the band which recasts familiar moments from their run of LPs and EPs in strange new forms.
What's on it?
Without A Sign offers nine demo versions of tracks which date back to their debut Everytime LP, plus two tracks hitherto unreleased in any form. Although somewhat recognizable as demos, it's not so much any roughness in sound that distinguishes them (plenty of these numbers would be perfectly serviceable as finished versions for a band with a less polished delivery) as it is wholesale differences in instrumentation, arrangements, and vocals.
So, we're presented with a beat-free and more plaintive take on "Back For A Day", a morose and murky version of "Call Me", and an almost cozily funky "Night Before". So much of the appeal of Sixth June rests in their compositions' ability to conjure a richly developed mood nearly instantaneously, so having the demo versions bring about a totally different atmosphere while retaining their literal melodies is rather uncanny. The version of personal favourite "Knife In The Water" has Lidija Andonov sharing vocal duties with Laslo Antal and lending an air of sober solemnity to a piece which was shot through with playful menace on its official version. Hell, Without A Sign even finds vocals replacing the evocative sax of epic Virgo Rising closer "Falling", supplanting abstract melody with mournful personal narrative.
Who should buy it?
While not exactly serving as a best-of or ideal hopping on point for newcomers, Without A Sign does end up triangulating much of what has made Sixth June's music so seductive, just in an order which seems somewhat rewired to those familiar with the originals. Established fans will likely be mesmerized by the sleight-of-hand involved in the music's moods and themes, as Without A Sign underscores Sixth June's talents for a range of expressions of darkwave, regardless of the means through which they achieve them.