The arrival of fall often draws us into a more contemplative and focused mode of listening to records. Less "speakers at park picnics with pals", more "headphones while staring out windows at grey skies". We're not saying that one frame of reference is necessarily better suited for the sort of music we end up considering on these pages, but more conscientious listening's never a bad thing in our books. A conversation last night with this week's interview subject (stay tuned) turned towards making time for serious and dedicated listening. It's odd that in an era when it's possible to pull nearly any tune we might care to hear from the aether at a moment's notice there seem to be less opportunities to focus in on a new record without distraction, but that's often how it feels. Whether it's this week's tracks, an old favourite, or a new record you've been eagerly anticipating, make time to give music the space and time it deserves (this is more a reminder to ourselves than anything else). It's always worth it.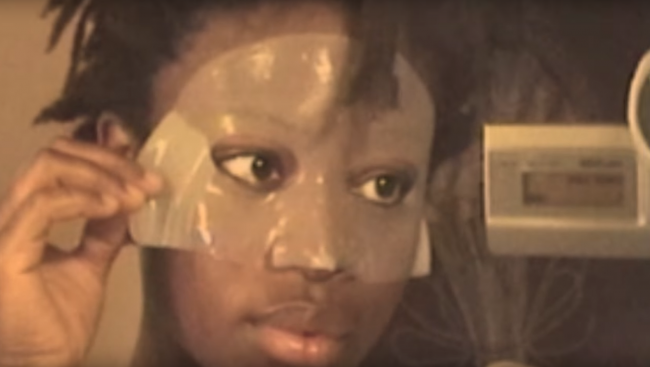 Encephalon, "Never Bleed"
If you read the excellent interview Matt from Encephalon did with the homeboy Adam from amodelofcontrol you'll have some idea of what to expect from the band's forthcoming We Only Love You When You're Dead. We won't spoil matters by going deep here, but rest assured if the idea of an electro-industrial rock musical about Frankenstein in a dystopian corporate-controlled future sounds appealing – and how could it not? – you won't be disappointed. This is one of the more straightforward tracks on the record but rest assured, there's a lot of high-concept Encephalon weirdness there for your listening pleasure.

Boy Harsher, "Country Girl"
In a year where we've seen a lot of very good live performances, our minds keep returning to the sweaty art space show we say Boy Harsher play in East Vancouver, and the amazing emotion and power of the event. It has us very excited to hear the forthcoming release they're putting out on Ascetic House, especially when the new videos are so striking. Peep this one for the EP title track, which has some moody synthwave touches, but tasteful ones if you follow. And don't forget to catch them at Cold Waves: we'd love to know how their act translates to the festival stage.

Anima Nostra, "A Way Out"
More gutteral death industrial from Anima Nostra, Henrik Nordvargr Björkk's collaborative project with Margaux Renaudin. The slamming percussion and buzzing dones which were recently showcased on the Atraments LP are just as heavy, and maybe a bit more immediate, on this clutch of tunes taken from a split with Shibalba. Björkk never half-steps anything, but the combination of groove and atmosphere he and Renaudin have struck upon seems to have really lit a fire under the arse.

ELM, "Burial"
It's a bit odd to get a single from Sweden's ELM a year and a half since their Hardline LP was released, but that record was a fun blast of no-frills, classic EBM, and getting an extra dose via this B-side is certainly welcome. Peter of Restricted Area's used the ELM moniker to showcase his talents in pure EBM kicks and basslines, and as long as it keeps paying dividends like this, we can keep waiting for another Restricted Area LP for a while longer.

Hexadiode, "Hexon Shift (Xavier Swafford)"
Been a minute since we've heard any non-3Teeth material from Xavier Swafford, but it just so happens that the producer/programmer has a remix out for Dayton, Ohio industrialists Hexadiode. Hot analogue synth action combined with that deep syncopated groove that makes it's way into Swafford's work makes for a hell of a club track no doubt, and reminds us that we totally dropped the ball on that Hexadiode LP last year. We'll make sure to catch up soon.

RE_P, "Wild Bohemian Party"
Heavy-duty bin-shaking stuff out of Italy, RE_P's EP features mixes from Melania (no, not that one, the one with the EP on a+w) and French old-schoolers Blind Delon. There are no frills to be found on the original mixes, though, just rough and ready kicks and big, squelchy raved-up synths. One can't help but wonder if this is where Fostercare might have ended up had he stuck around.