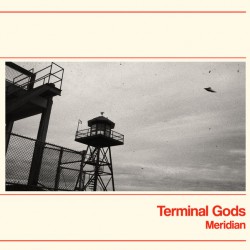 Terminal Gods
Meridian
Heavy Leather Sex
To say that a goth rock band's last release was ominous feels somewhat redundant, but the unease Terminal Gods' 2016 LP Wave / Form brought to our HQ was palpable, albeit in the best way possible. That record marked the London band's clear interest in exploring territories much more moody and, yes, quiet than their early run of rollicking singles and EPs which brought them quick acclaim. The sense of tension and modulated musical stylings of that record have been doubled-down upon in the band's new record. Meridian is a record which thrives on being eerie rather than boisterous, and takes up colder musical weapons in order to communicate that mood.
Right from the get go, "The Bird Catcher" shows just how committed Terminal Gods are to a "less is more" aesthetic, for at least some of the record. Made up of groaning strings and the slightest keyboard and drum arrangements, it's a stripped-down but effectively creepy opener, and is wholly unlike anything in the band's extant catalog. That's a trend that continues. Time and again Meridian avails itself of a much wider range of sounds and influences than its predecessor, which, as I noted at the time, was itself drawing upon new wave influences previously absent. Space-rock, 90s darkwave, the bleakest of coldwave, and plenty more modes from the band's record collections each have their turn, and yet Meridian never feels haphazard or excessive.
The smear of jittering keyboards over drum machines on "Sleep Machine" feels a bit like the late, great Horatii but the straightforward guitar and Robert Cowlin's direct, punchy vocal is of a very different cast. With every move towards the more obscure corners of dark music they make, Terminal Gods paradoxically seem to be finding ways of writing tunes which tap into a more accessible vein. Lyrically, Cowlin still has one foot in classic rock metaphors and wordplay ("Headlong And Heartless"), but there's been some experimentation there, too. It's interesting to compare the remorseless predator who narrates "The Bird Catcher" with the speechifying of Tony Benn (there's no irony to be found there – guitarist Robert Maisey is a Constituency Labour Party officer).
I'd be lying if I said that no part of me missed the Terminal Gods who cranked out the likes of "Electric Eyes" and "The Wheels Of Love": classic gothy rave-ups which have stood up well over the years. But given how good they were at that style right out of the gate, it'd be selfish to ask the band to stay in a holding pattern, likely with diminishing returns. Meridian crams a wealth of feels and sounds into a shockingly brief (twenty-seven minute) package, and does so in stylishly reserved fashion. Recommended.