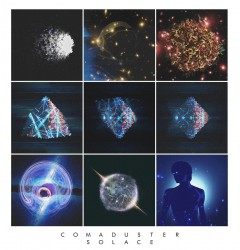 Comaduster
Solace
self-released
The long-awaited follow-up to Comaduster's 2013 opus Hollow Worlds carries with it a host of expectations. The abstract, melodic, bass-influenced music that Réal Cardinal composes, produces and performs is conspicuous by virtue of the impact it has on the people who fall into it, and the degree to which those listeners internalize its complexities and emotional density. The new LP arrives with the weight of investment already hanging from it, and an important question to answer: how does an auteur one-up their own definitive statement?
In the case of Solace the answer is you go bigger. Much, much bigger. It's Hollow Worlds blown out to galactic scale, outsized in feeling, sonics and concept. The same intricately programmed beats, chiming guitars and rumbling glitches that have become Cardinal's trademarks are still present, but applied on a macro level, so that each contains multitudes. Not just an increase in the actual number of hits, or notes programmed, but in the staggering number of decisions that must have gone into their placement, their relationships with one another, and their multiplicity. From a purely mechanical standpoint a song like the title track is a wonder of construction, constellations of noise, percussion, reverb and deep, shredding bass tones that revolve and inhabit each other. There is nary a moment on Solace that isn't studiously arranged in some way. Even its silences contain a level of articulation that borders on obsessive.
And yet somehow that granular level of detail doesn't detract from how broad and immediate the album is. As much as any one song can represent the record, "Emergent One" provides a useful example of that seeming contradiction, starting with a comparatively simple arrangement of drums and bass that gradually duplicates and diversifies until it actively starts to break free from the song's time signature. It's then that everything snaps back together into an enormous swell of melody, actively using the tension born from amusical rhythms to drive the song's chorus into the stratosphere. Sure, the album is a master-class in configuration, but also in how that kind of exacting technical mastery can be musical in the most essential ways.
We don't want to undercut the compositional accomplishments of Solace or the level of its sound design, but one of the key distinctions between it and Hollow Worlds is just how central Cardinal's vocals are to these tracks. The role of his voice here is perhaps easier to notice given that an instrumental version of the album's been concurrently released, but time and again it's Cardinal's singing which not only carries the emotional impact of Solace but also does the heavy lifting of melody and harmony. Whether he's holding it in tandem with the soaring peaks of keyboards on "The Entangled" or building on the prog-heavy rhythmic changes of "Selfsimilar" to make an immediate plea, he's made the voice – as an instrument and not simply as a thematic or narrative device – a primary element in his music.
Any discussion of Solace's vocals naturally leads into the incredibly detailed world and story with which Solace concerns itself. Made up of post-human intelligences living at the cusp of total entropy and attempting to locate home, a sense of self, and meaning in a universe increasingly bereft of those qualities, it's a heady and ambitious concept which ranks well alongside Cardinal's prog influences, and is a refreshing change from the warmed-over cyberpunk tropes with which post-industrial music often obsesses. While we do recommend giving the (extensive) liner notes a read and listening for the cues and events described therein, a total understanding of the far future world of Solace isn't necessary to understand the emotions, conflicts and goals played out within it. Indeed, the parallels between the science-fictional story and a more general consideration of mental illness and issues of identity are striking. That Cardinal is brave enough to draw the line between this record and his own struggles with mental health is worth applauding on its own.
Comaduster's music has always been best in class in terms of composition, arrangement, sound design. Solace somehow pushes the project even further, seeding complex detail within detail while simultaneously yielding soaring, melodic anthems which cut to the quick of the soul. In its constant deconstruction and reconstruction it puts the lie to a lot of assumptions about music, false dichotimies that pit technicality against authenticity, and raw human emotion against automation. Rendered as a perfect loop, it's quite literally a record that demands to be relistened to, examined, and engaged with. The interim between Hollow Worlds and Solace raised speculation and anticipation about Cardinal's advancement of the project, and that's been paid in full in the form of a rich and arresting record. Highest recommendations, and a strong contender for record of the year.