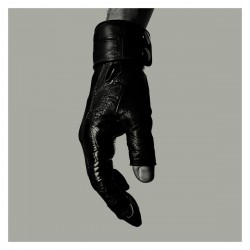 Black Asteroid
Thrust
Last Gang Records
In an era in which nearly every industrial artist's moving towards techno, nearly every techno producer's doing their level best to sound more industrial, and flat-out everyone is trying to get into Berghain (sorry, can't help you there), it's strange to think of an artist like Bryan Black as being overlooked. His new record features Cold Cave and Zola Jesus cameos and he's been collaborating with the likes of Rick Owens of late. And yet winding the clock five or ten years back, it's tough not to look at Motor, Black's project with Olivier Grasset, as being underappreciated in their own time. Despite landing opening slots for Gary Numan and even Depeche Mode, Motor's sound seemed out of sync with the trends of the aughts: too techno for rivetheads, too clangy and bangy for technophiles. Now, with the first LP from Black's solo Black Asteroid project, the times have finally caught up with him.
It's easy enough to draw some lines between the sounds of Thrust and Motor, though there are some subtle differences. While both use heated kicks and straight-forward sequencing to build a clocked-in sense of anticipation and possibly even dread, the punchy techno rock of some of Motor's work (which always reminded me of the similarly overlooked Kill Memory Crash) is largely absent; the instrumentation on Thrust is minimal even as the elements which remain saunter up and down scales and arpeggios. Rather than going for the wide-screen, full-court press of some producers who have similarly latched onto the techno-industrial nexus, Black finds a more compressed style which feels both quieter and more anxious, as on "Space Junk". He's also made the best of his collaborator's efforts; the oft laconic Wes Eisold of Cold Cave feels right at home wheezing prescriptive observations on "Black Moon" and "Here Comes Fear". The fastidiousness of the arrangements becomes its own point of anxiety; a cleaned up iteration of Silent Servant comes to mind, and maybe even some of The Hacker's sense for riding cymbals into disquiet (see "Sun Explodes").
The old cliche of "a band's band" holds true once in a while, and certainly seemed to for Motor. Black's work is still earning him the respect of fellow artists within and without the techno-industrial matrix, but I can't help but think that a larger audience is at last more primed for the specific brand of tension his work's been showcasing for years. Whether Thrust finally clicks with said audience or not is beyond my ken, but if it fails on that account Black certainly can't be blamed; he has his finger on the pulse and it's up to everyone else to get their cardio up to speed.