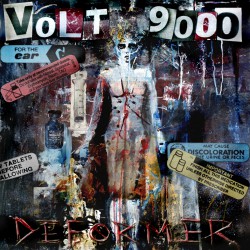 Volt 9000
Deformer
Electric Bat Records
The Toronto-based electro-industrial project Volt 9000 has always had a quixotic, free-wheeling quality to its records, due in no small part to the lurching, mutated rhythms and organic textures that wend their way through their songs. New album Deformer is almost alarmingly focused in comparison to their last handful of LPs and the change yields serious results; where the band has always had interesting ideas and a wry outlook, they've rarely ever been this potent.
Project mastermind Cory Gorski (with contributions from now former V9K member Andrew Dobbels) packs a lot into Deformer's ten songs, filling them with textures, samples and whirring mechanical noises of all kinds, arranging them around solid rhythm programming. In many ways it echoes 2012's Mutronix in its focus on weirdly catchy hooks, but with an enhanced production style. The warped and degraded sounds that are Gorski's trademarks take on a more menacing tone then ever before; where Volt 9000 has often used lo-fi-lo-bitrate noise to add character, it sounds positively sharp and acidic when applied here. The keening lead of "Under the Skin" slices across pads and deceptively funky drum and bass synth programming, building to an instrumental freakout that shakes the track down to its component sounds. Despite its hummable melody and vocal line "Monster Party" is downright disquieting, the off-kilter feel enhanced by generous use of glitch and modulation, a club song as heard through the filter of a decrepit, malfunctioning funhouse.
Cory Gorski's vocals remain one of the project's most versatile tools, adding dynamics both via processing and actual cadence and emphasis. There are still hints of latter-day Ogre in the delivery, but the specific ways in which Gorski places words and syllables in relation to drums, and uses pitch, doubling and delay tricks to create syncopation feel distinctly like Volt 9000. "Switch and Bait" finds voices either way off in the echoing distance or directly in your ear, the creep factor enhanced by tape-like warble and saturation. The clinical detachment from the medical themes that recur through the lyrics are all part of the act: "Dead on Video" relies on Gorski delivering his lines as robotically as possible, made all the more disquieting when the list of ludicrous ailments is suddenly being delivered like a plea for assistance.
By virtue of its immediacy, Deformer actually makes a case for itself as Volt 9000's strongest album. Without entirely abandoning the project's experimentalism Cory Gorski has found a scope and a direction that emphasizes the vitality and energy in his compositions, honing them into sharp and vital instruments. V9K remain as unpredictable and changeable as ever, but for the first time the project sounds urgent and necessary. Recommended.